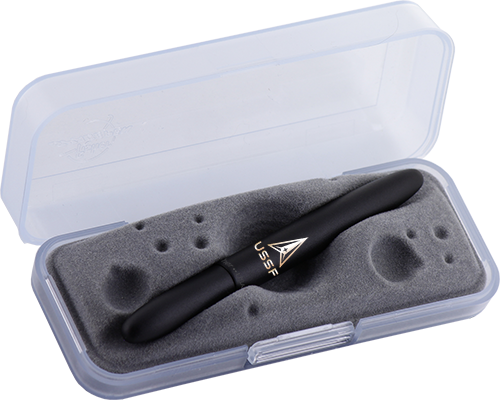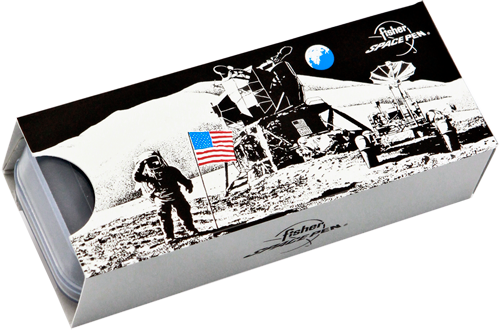 Space Pen | Matte Black Bullet Space Pen with US Space Force Delta Insignia
---
In stock, ready to ship

Inventory on the way
Proudly made in the USA. When closed, Bullet Space Pens are the perfect size to carry in your wallet, pocket, purse, car glove box, organizer, or toolbox. When open, it's a full sized, evenly balanced writing instrument.
The US Space Force is a military service that organizes, trains, and equips U.S. service members for the protection of American and allied interests in space, and to provide space capabilities to the joint force. USSF responsibilities include developing military space professionals, acquiring military space systems, maturing the military doctrine for space power, and organizing space forces to present to our Combatant Commands.

This Matte Black Bullet Space Pen features a detailed U.S. Space Force Insignia laser engraved design.
The original Bullet Space Pen was conceived in July of 1948. Paul Fisher was soon machining a new pen design shaped from solid aluminum. It became our first Fisher ball point pen, the 400 Bullet Pen, and arguably the most popular pen of the twentieth century. This pen is all brass with a matte black finish.
Cited as an outstanding example of industrial art, the classic design of the Fisher Bullet Pen has been exhibited for years in the New York Museum of Modern Art. The Bullet's timeless styling has been the topic of many art books and magazine articles. Often imitated, but never duplicated, the Fisher Bullet continues to be our most popular pen.
Style: Cap Slides On & Off
Finish:

 

Black with United States Space Force Insignia

Length: Open - 5.25" Closed - 3.75"
Cartridge: PR-4 Black Ink Medium Point
Packaging: Moonscape Gift Box with Astronaut sleeve

Officially licensed by the Department of the Air Force
About The R. Riveter Marketplace
The R.Riveter Marketplace is a curated collection of American Made and Mission-Driven makers.
About the Maker

Fisher Space Pen Co.

Fisher Space Pen rose to prominence when founder Paul Fisher invented a retractable, pressurized pen called the Anti-Gravity 7 (#AG7) that worked flawlessly in zero gravity aboard the first manned Apollo mission in 1968. Five decades later the company continues to thrive with pens still flown aboard every manned space flight. After Paul Fisher earned NASA as a customer for his revolutionary Space Pen, he continued to focus his efforts on developing unique, quality products. All Fisher Space Pens are handcrafted and able to write underwater, over grease, at any angle, upside down, 3-times longer than the average pen, in extreme temperatures ranging from (-30°F to +250°F), and in zero gravity. "People find that our technology is by far the most reliable from both a shelf-life and environmental standpoint," says Cary Fisher, now co-owner and Paul's son. One of Paul Fisher's first ideas was for the iconic Bullet Pen, named for its sleek rounded ends. Fisher Space Pen is manufactured and assembled in the company's 30,000-square-foot warehouse in Boulder City, Nevada. Approximately 65 employees create the company's unique line of high-quality writing instruments. "We're a small company, but we're all focused on one thing: making a great product. We're upholding the whole notion of 'Made in America', which, I think, still counts."
Shipping
Shipping is calculated based on weight and geographic location.
We offer FREE domestic shipping (excludes Hawaii & Alaska) on orders over $175.
What does shipping cost?
Based on the option you select at checkout:
Standard Flat rate: $8 flat rate
UPS Ground: Shipping rate is calculated based on weight and geographic location and will ship UPS Ground.
UPS 2 Day Air:  Shipping rate is calculated based on weight and geographic location and will ship UPS 2 Day Air.
How long does it take to process an order?
Orders will be processed within 5-7 business day out of our facility in Wauchula, FL.
How will the package be shipped?
Flat Rate will ship via USPS or UPS, or the service selected. 
If shipping to APO/FPO/DPO - select Standard Flat Rate and we will automatically ship via USPS.
Returns
Sometimes you get a bag that just doesn't quite fit your idea of what you wanted. No problem it happens! If you decided this in not the perfect bag for you, R. Riveter would love the chance to try again. Please return the bag to R. Riveter within 30 days and you will receive a full refund, minus the shipping fee. Full refunds will be given on all items as long as it was returned within 30 days. 
In order for a return or exchange to take place the item must be in good condition with tags still attached.

Submit a return request by going to our Return Portal and entering proper order information.

Exchanges
We are happy to exchange your bag for you if you are not satisfied with the style you originally ordered. You will have to send back your bag to be returned and then order the bag you would like to get instead. Because our Limited Edition Bags sell out so quickly we suggest you grab any limited edition bag as soon as you can and we will refund your money for the bag being returned as soon as we receive it in our warehouse.  
Customer is responsible for all freight charges. Shipping and handling is non-refundable.
Any return, exchange or repair will not be accepted without the return authorization form and will be returned to the customer.

*Gift Cards are Non-refundable & non-returnable
After 30 days, items may be returned for manufacturing repair.