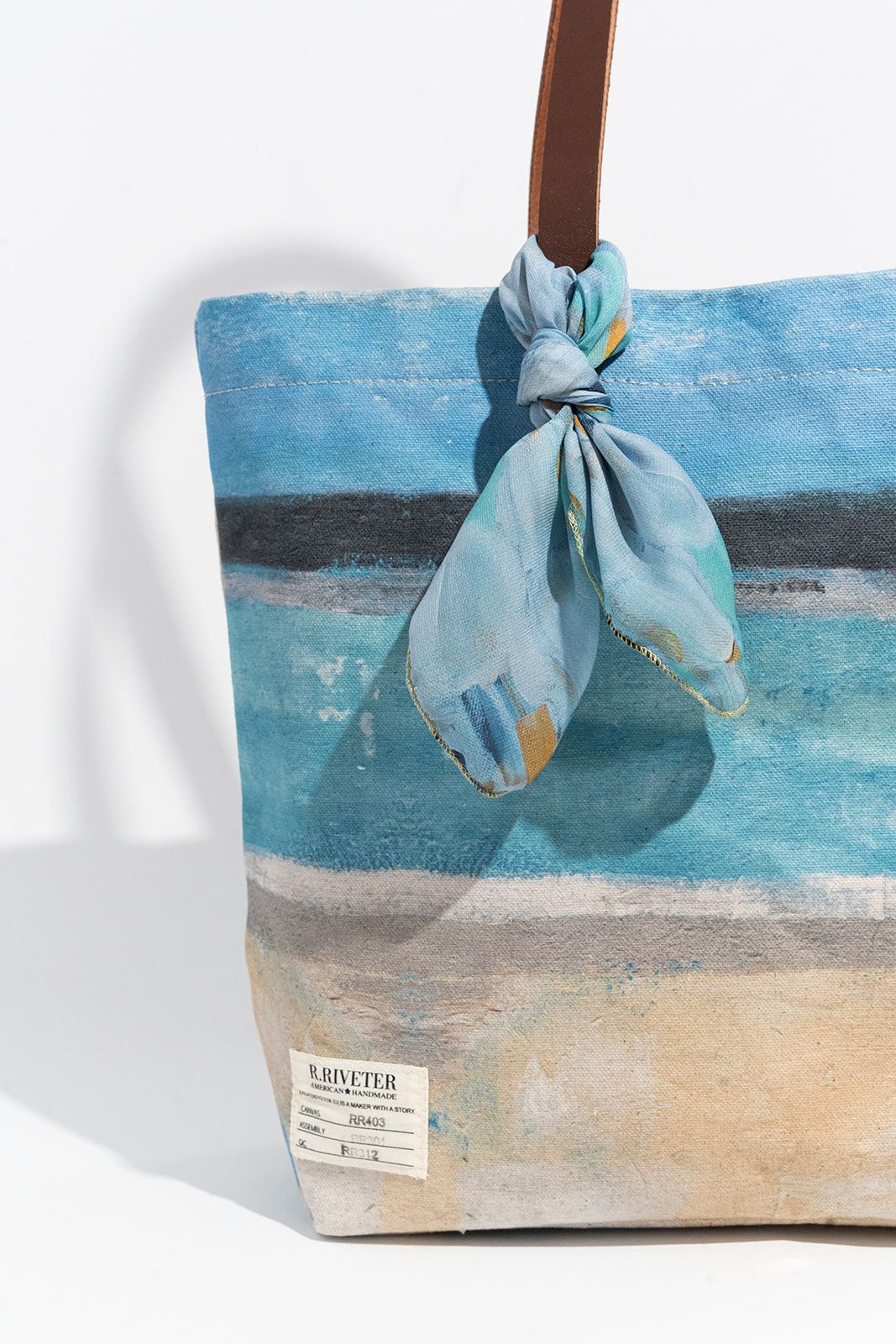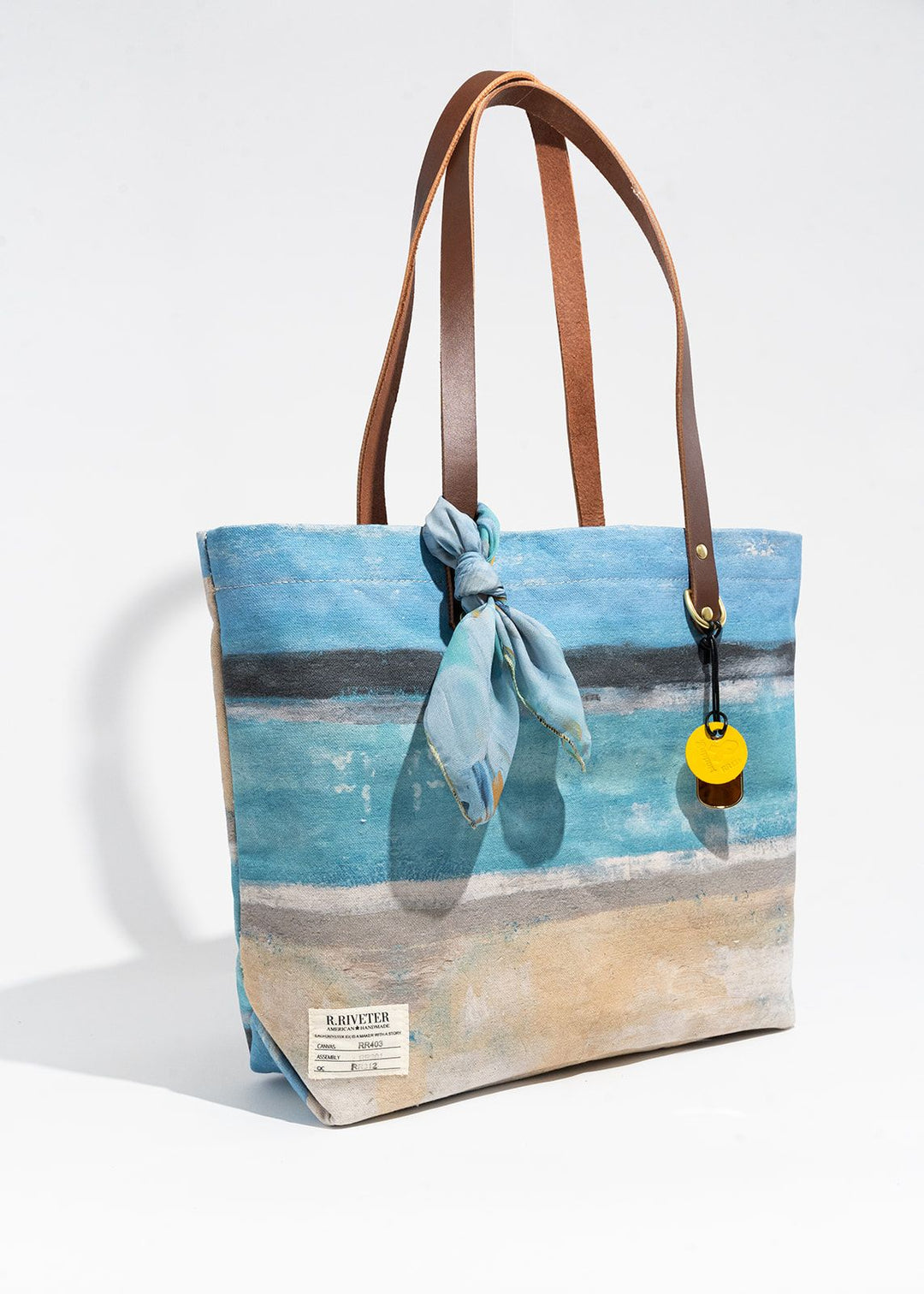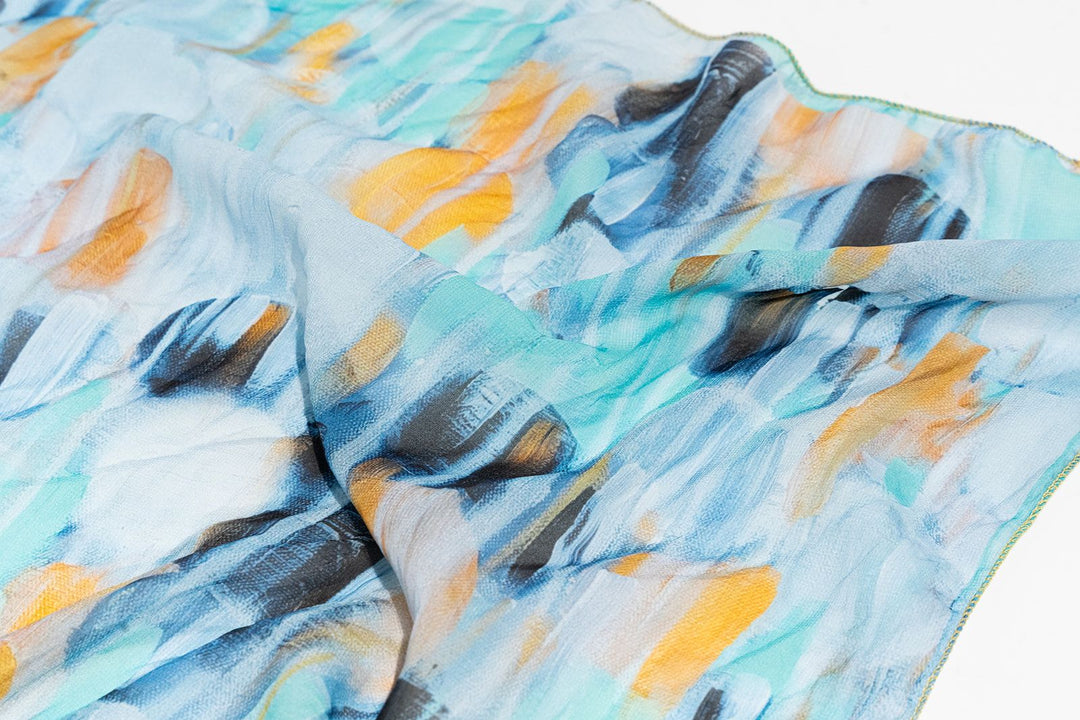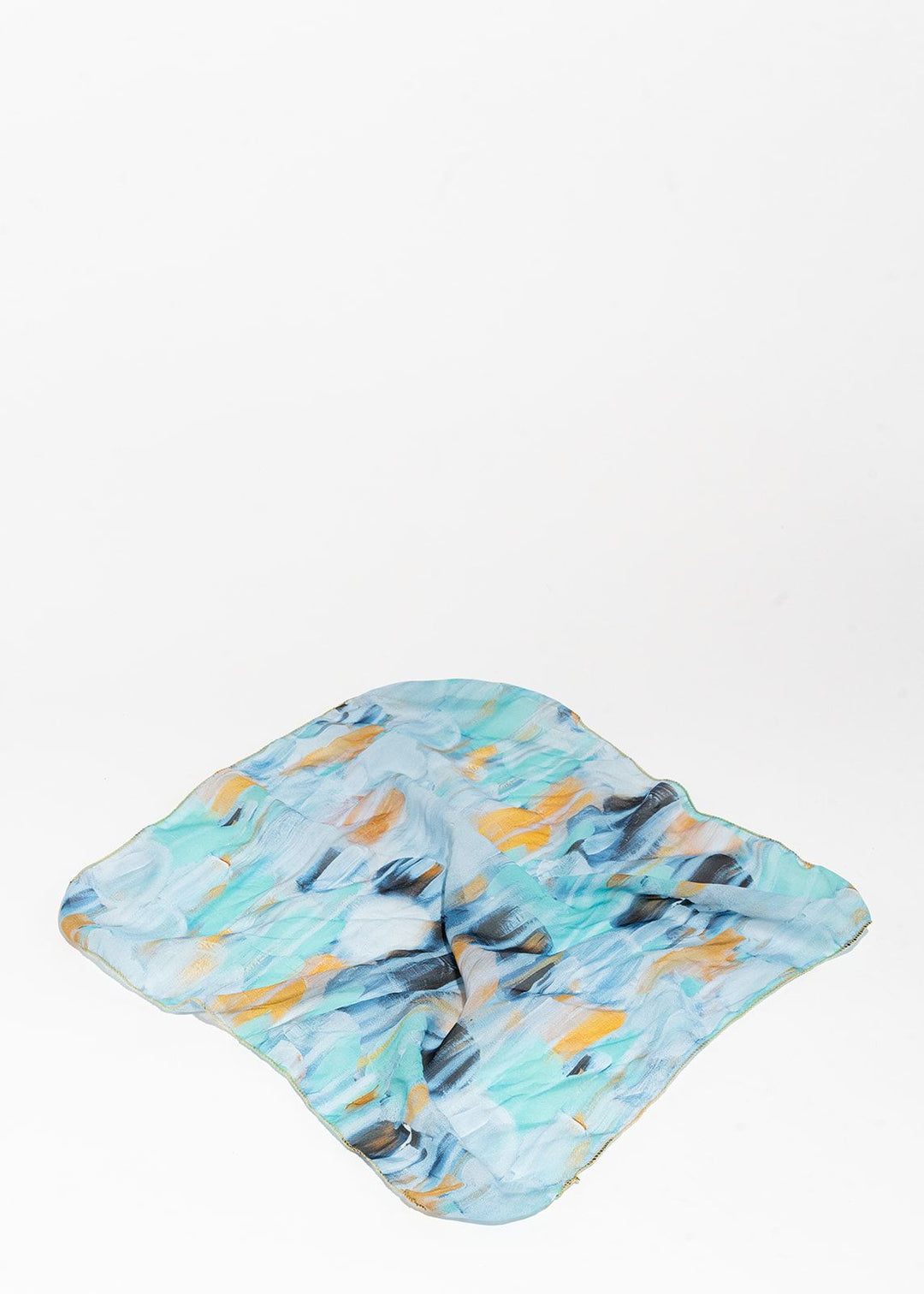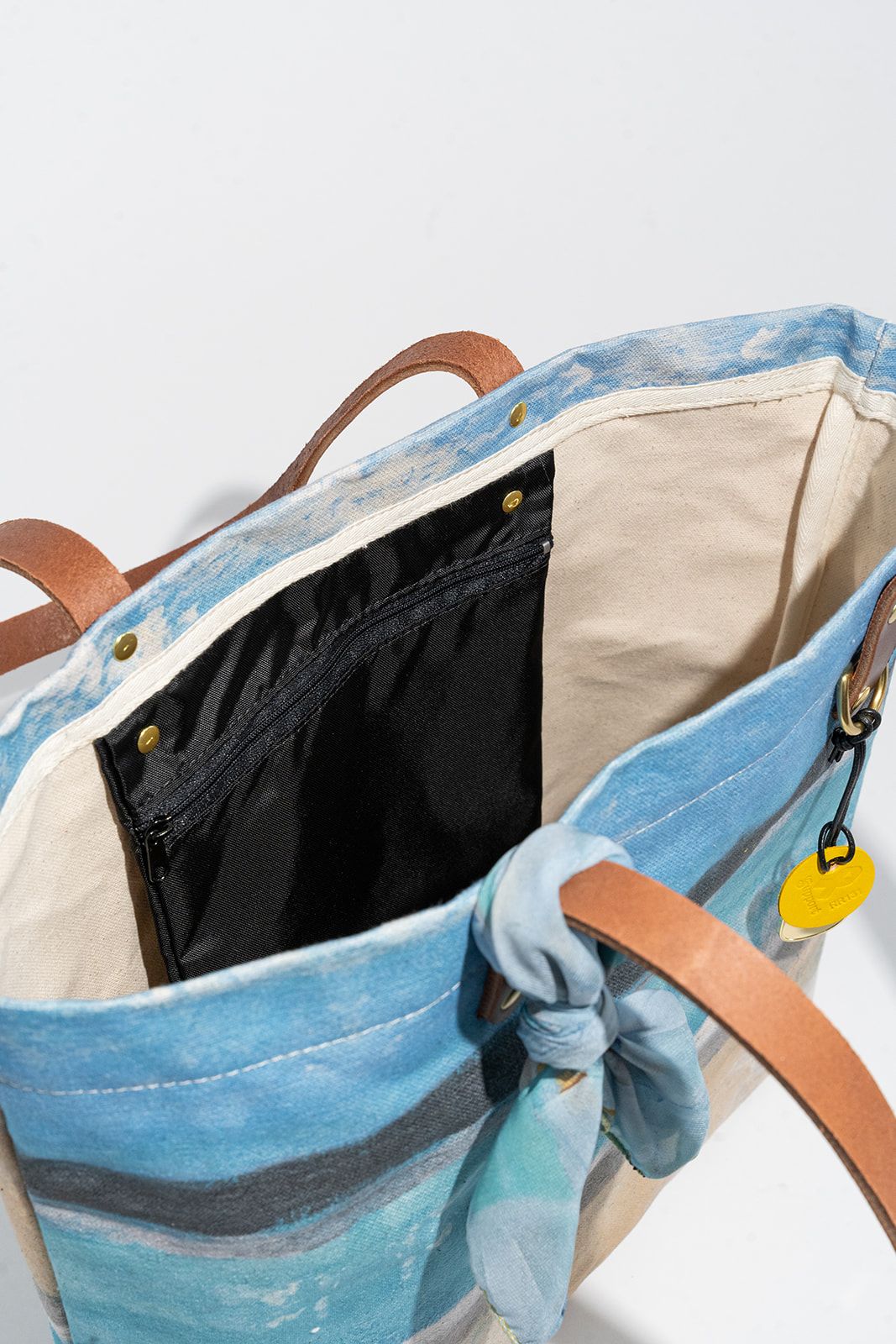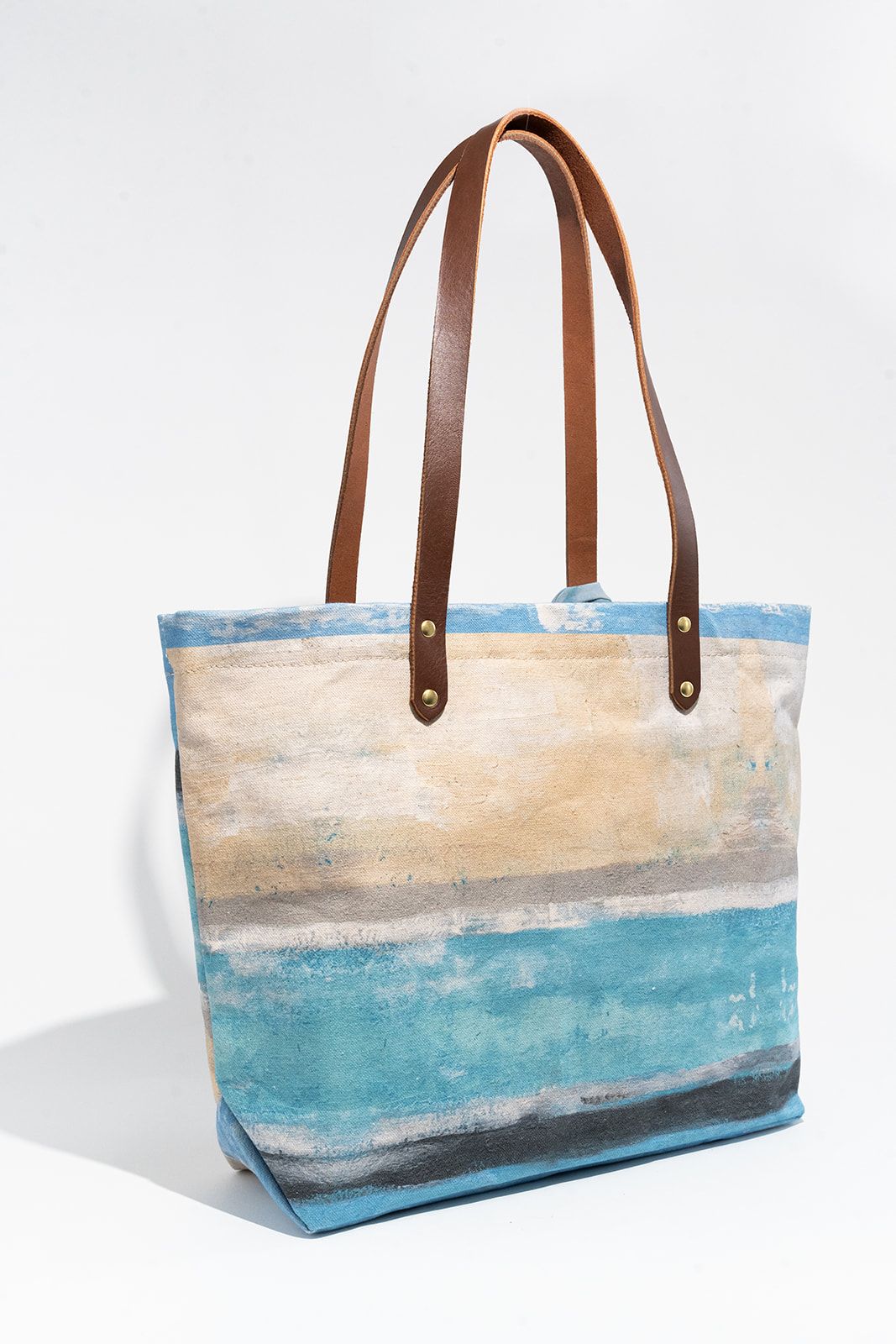 Wilson | 2023 Makers Series Tote
---
In Stock - Ships from our Florida facility
Very Limited Quanities produced
Inspired by an artist's work. The colors, details and quality of the prints are masterfully reflected in this new Wilson tote and scarf. 

MEET THE MAKER
A Creative Partnership: R. Riveter and Christy Tremblay 🎨
In a celebration of artistry and resilience, R. Riveter is thrilled to introduce Christy Tremblay as our featured maker for the Annual Makers Series. A self-taught artist with a military family background, Christy's work reflects her deep connection to nature, travel, and her ever-changing surroundings.
Christy's artistry is a testament to adaptability. Born in Tampa, Florida, and raised in Kirkland, Washington, she embarked on a journey marked by constant relocations. Her art became her anchor, echoing the colors and textures of her evolving world.
Her creative process is a captivating narrative, with each piece evolving through layers of media. It's a reflection of her ever-changing experiences and emotions. Through her art, she invites us to explore her world, offering a profound connection.
Christy's advice to aspiring artists is one of persistence and growth, drawing from her own journey of exploration and adaptation.
Assembled in the USA 🇺🇸

This curated tote is extremely limited - only 150 produced. Take one home today and carry transformative power of creativity with you everywhere.
Base Width 14" x Base Depth 3.5" x Height 12" x Opening Width 17"



Weight 1.48 lbs
Cotton canvas body
3/4" Genuine, full grain Leather handles with 11" drop.
One interior zipper pocket, 8"w x 5"h

Scarf dimensions: 18" x 18"
Featuring a minimalistic canvas silhouette with ample volume, two classic leather handles, an open top, and a convenient interior zipper pocket, our Wilson Market Tote is the perfect carryall. You'll be reaching for this bag for every occasion - from play dates to work commutes to day trips. 
Each R.Riveter handbag takes a journey across the country before arriving at your doorstep. Components are crafted by independent military spouses in their homes around the nation, and shipped to R.Riveter's FabShop to be assembled into a one-of-a-kind product.
Inspiration Behind the Name
The Wilson Tote was inspired by Edith Wilson, the first woman who secretly served as acting President of the United States.
In the fall of 1919, when President Woodrow Wilson suffered a paralyzing stroke, his wife Edith began to handle day-to-day responsibilities of the Executive Office. She attended meetings and screened all matters of state, deciding which issues were important enough to bring to her bedridden husband. Edith continued this "stewardship" until the term ended in 1921, unofficially running the country months before women had the right to vote.
The Wilson Market Tote carries on the legacy of a strong, progressive woman whose dedication to her country and her family can inspire women everywhere.
Maintenance of R. Riveter Leather: 
We love using real veg tanned leather in our handbags because they just better with age.  If you happen to get scratches or water marks, you can usually get the bag looking new again with just a little maintenance.  
Please click here to read about how to care for your veg tanned leather. 
  
Canvas Care Suggestions: 
When spot cleaning the canvas, we suggest using a brush or sponge with water only to wipe it off soiled area. We do not recommend using anything other than water as it could discolor canvas material. 
Scarf Care Instructions
100% polyester. Machine wash cold with like colors. Tumble dry low.
Shipping
Shipping is calculated based on weight and geographic location.
We offer FREE domestic shipping (excludes Hawaii & Alaska) on orders over $175.
What does shipping cost?
Based on the option you select at checkout:
Standard Flat rate: $8 flat rate
UPS Ground: Shipping rate is calculated based on weight and geographic location and will ship UPS Ground.
UPS 2 Day Air:  Shipping rate is calculated based on weight and geographic location and will ship UPS 2 Day Air.
How long does it take to process an order?
Orders will be processed within 5-7 business day out of our facility in Wauchula, FL.
How will the package be shipped?
Flat Rate will ship via USPS or UPS, or the service selected. 
If shipping to APO/FPO/DPO - select Standard Flat Rate and we will automatically ship via USPS.
Returns
Sometimes you get a bag that just doesn't quite fit your idea of what you wanted. No problem it happens! If you decided this in not the perfect bag for you, R. Riveter would love the chance to try again. Please return the bag to R. Riveter within 30 days and you will receive a full refund, minus the shipping fee. Full refunds will be given on all items as long as it was returned within 30 days. 
In order for a return or exchange to take place the item must be in good condition with tags still attached.

Submit a return request by going to our Return Portal and entering proper order information.

Exchanges
We are happy to exchange your bag for you if you are not satisfied with the style you originally ordered. You will have to send back your bag to be returned and then order the bag you would like to get instead. Because our Limited Edition Bags sell out so quickly we suggest you grab any limited edition bag as soon as you can and we will refund your money for the bag being returned as soon as we receive it in our warehouse.  
Customer is responsible for all freight charges. Shipping and handling is non-refundable.
Any return, exchange or repair will not be accepted without the return authorization form and will be returned to the customer.

*Gift Cards are Non-refundable & non-returnable
After 30 days, items may be returned for manufacturing repair.