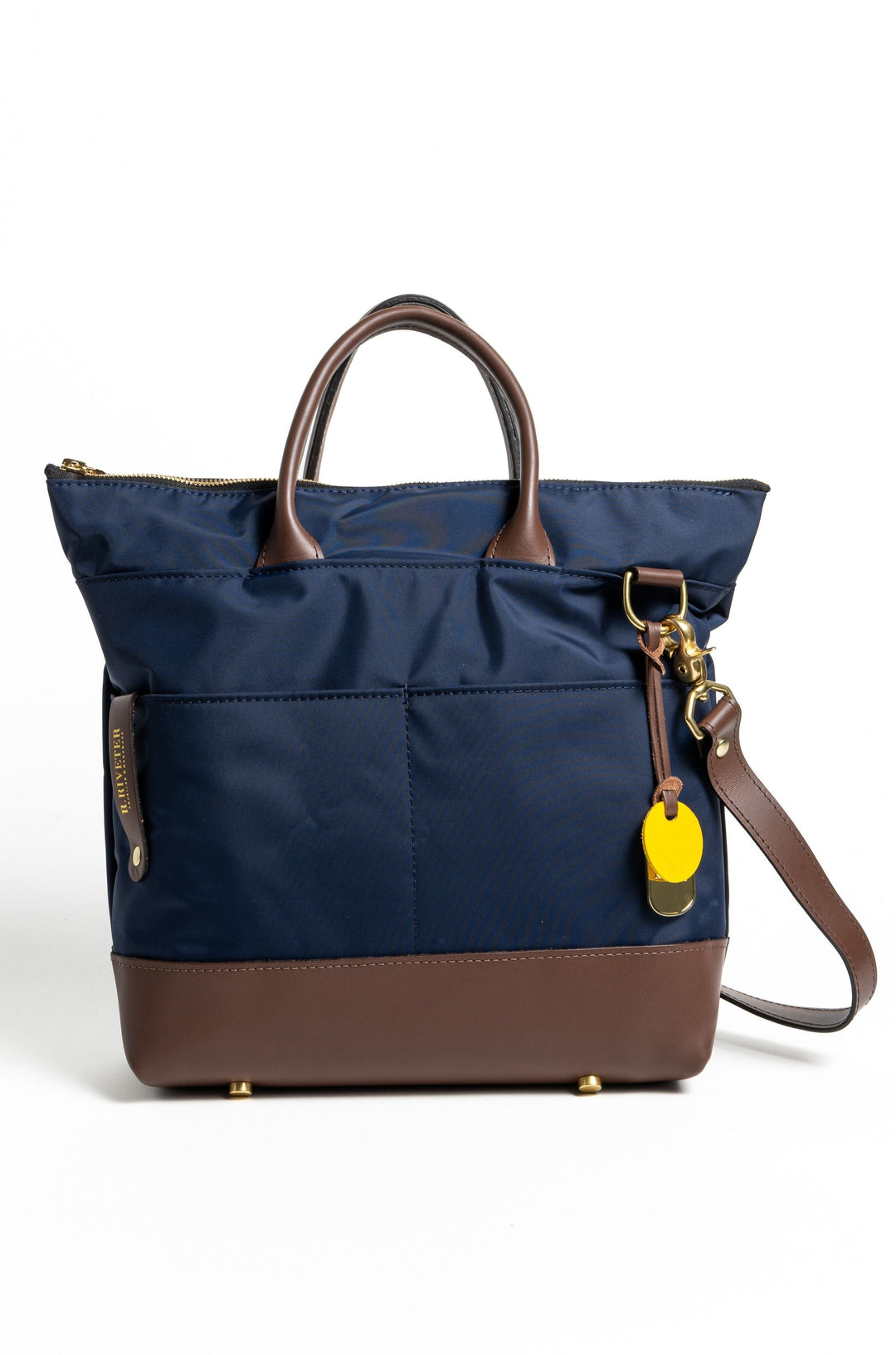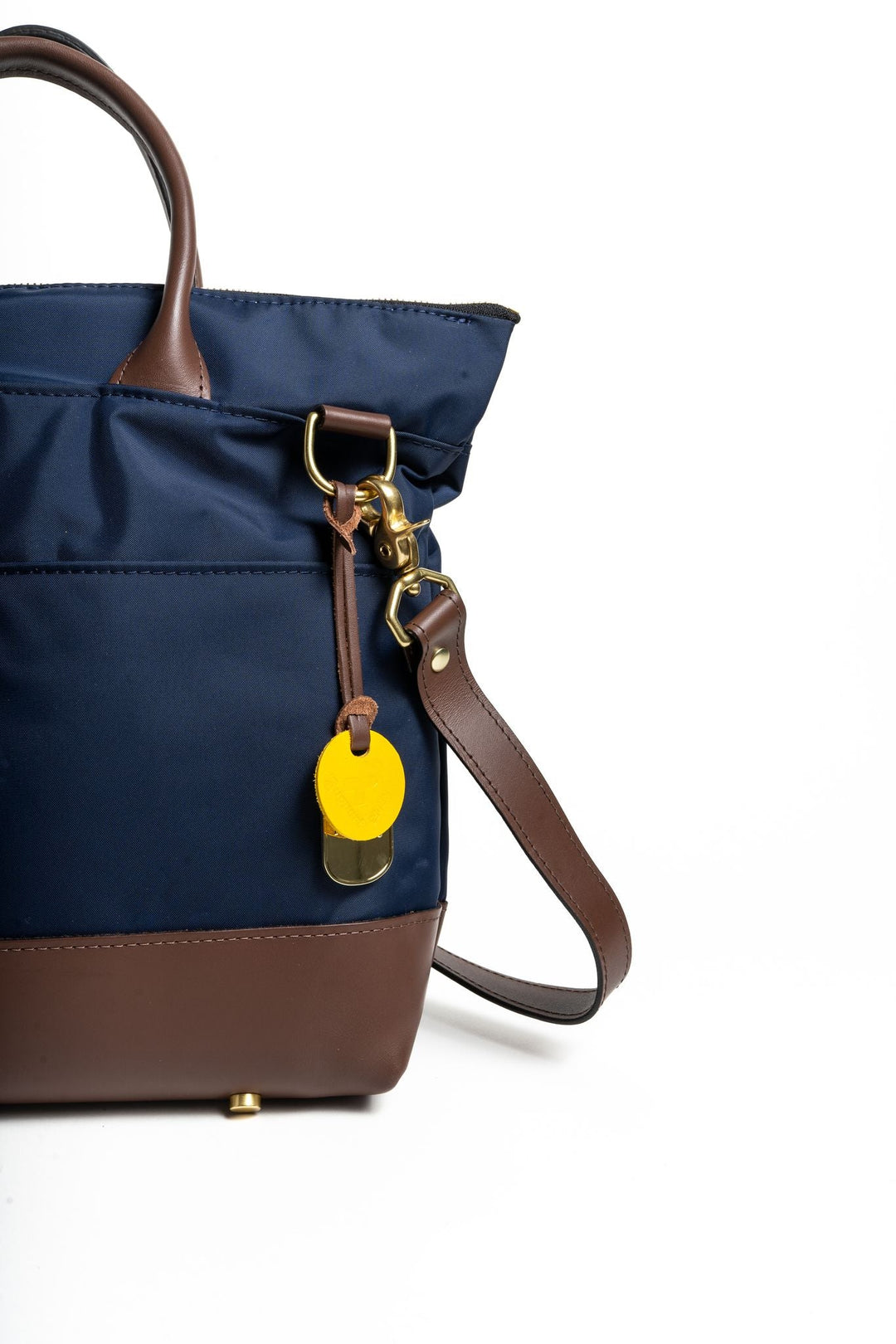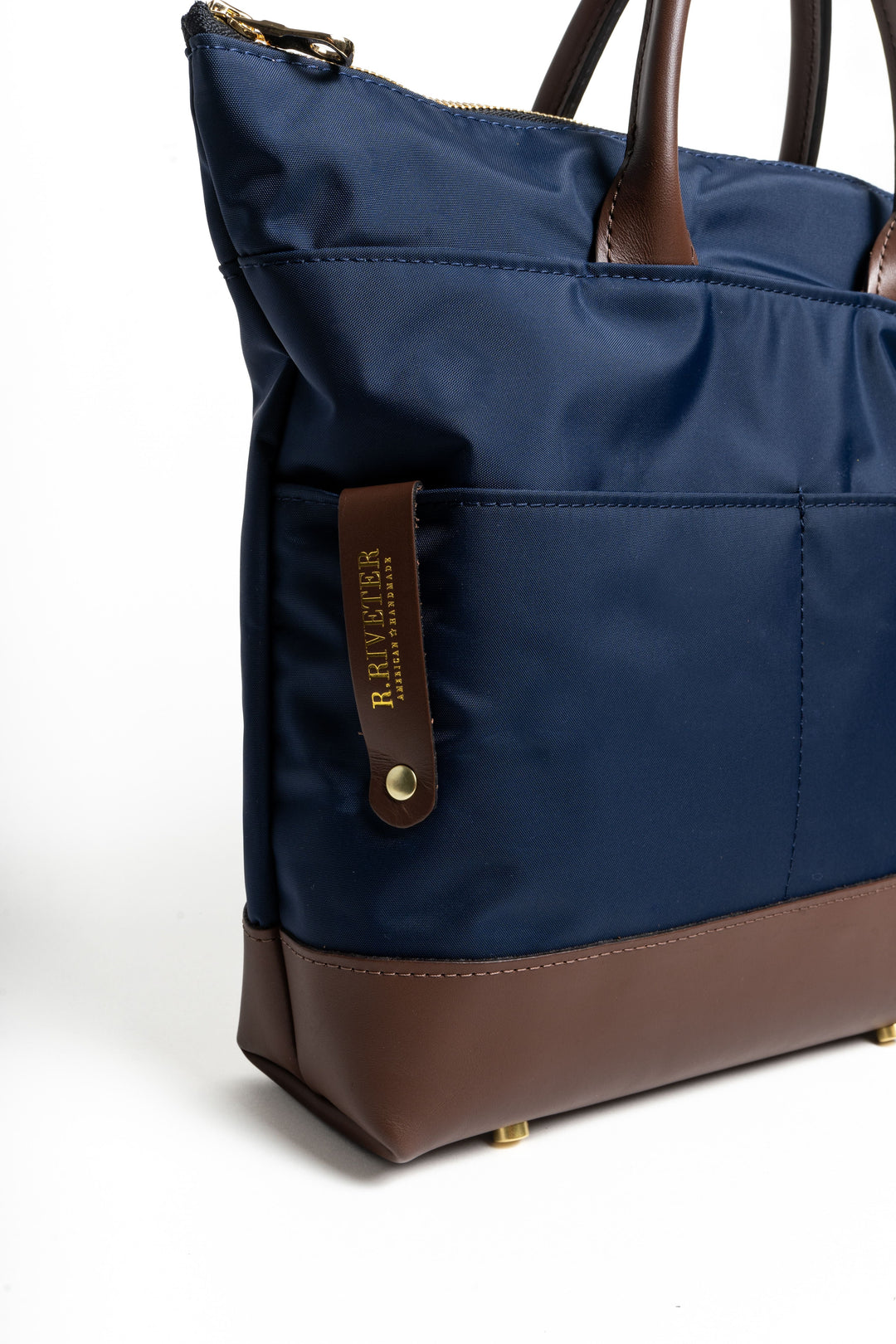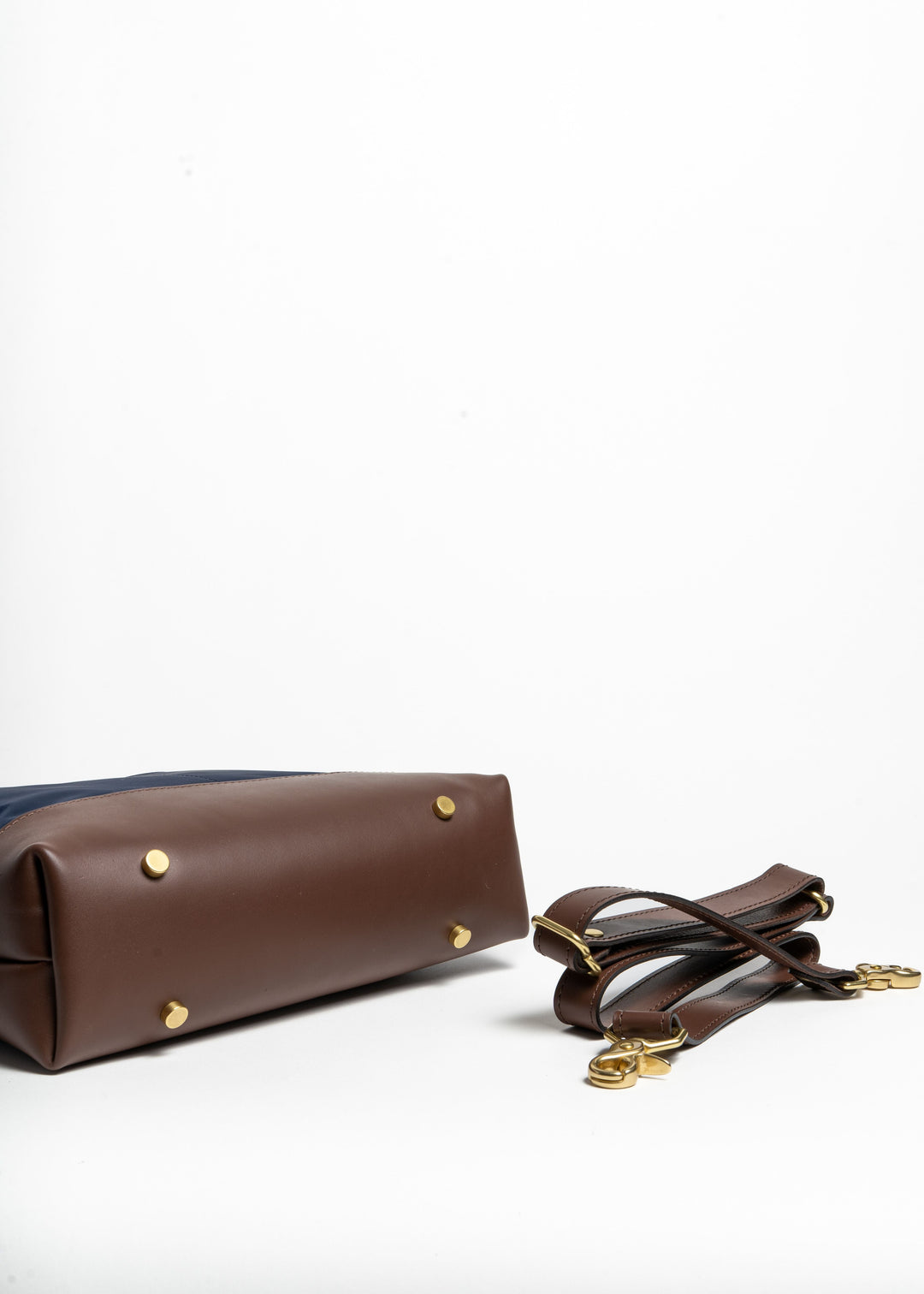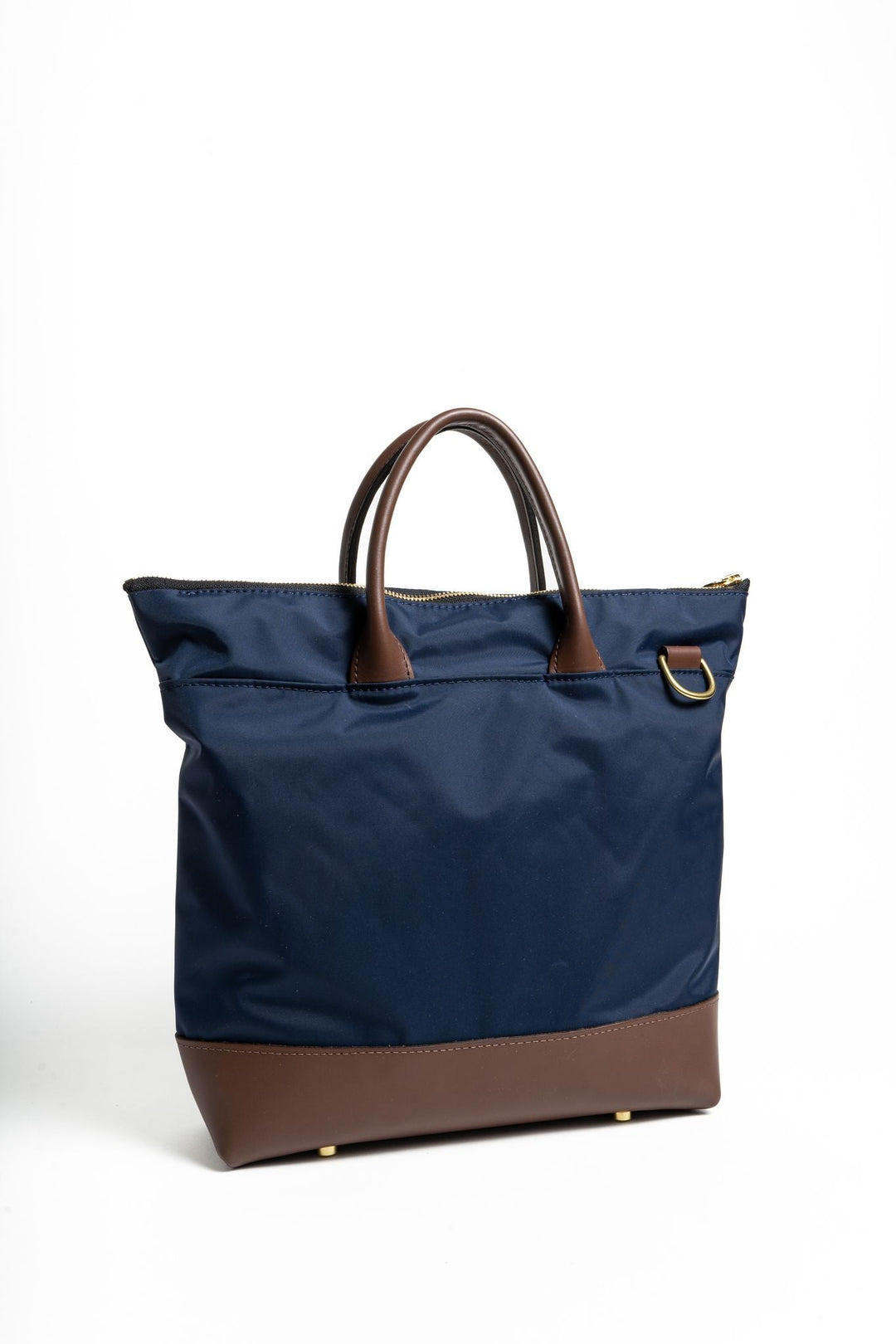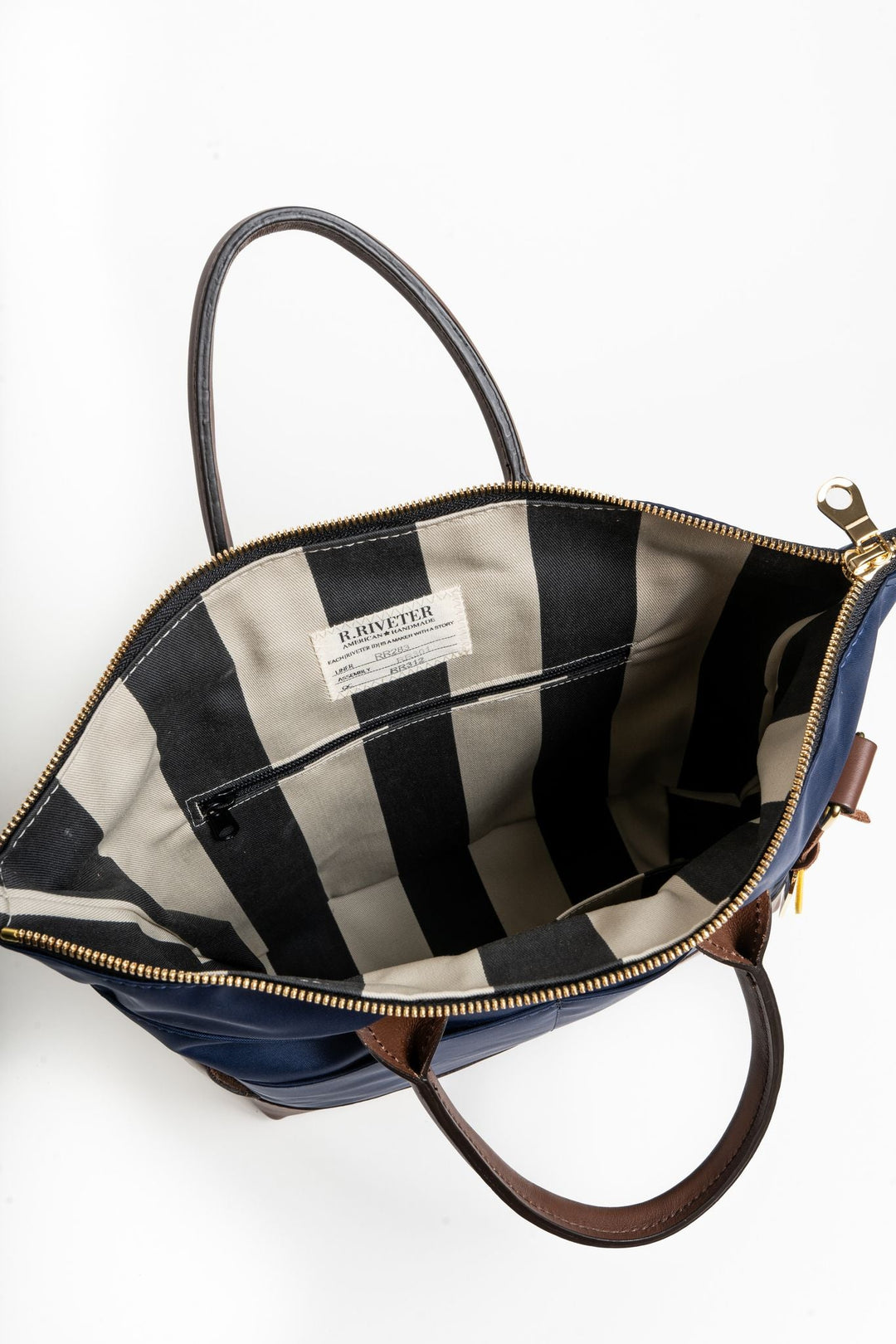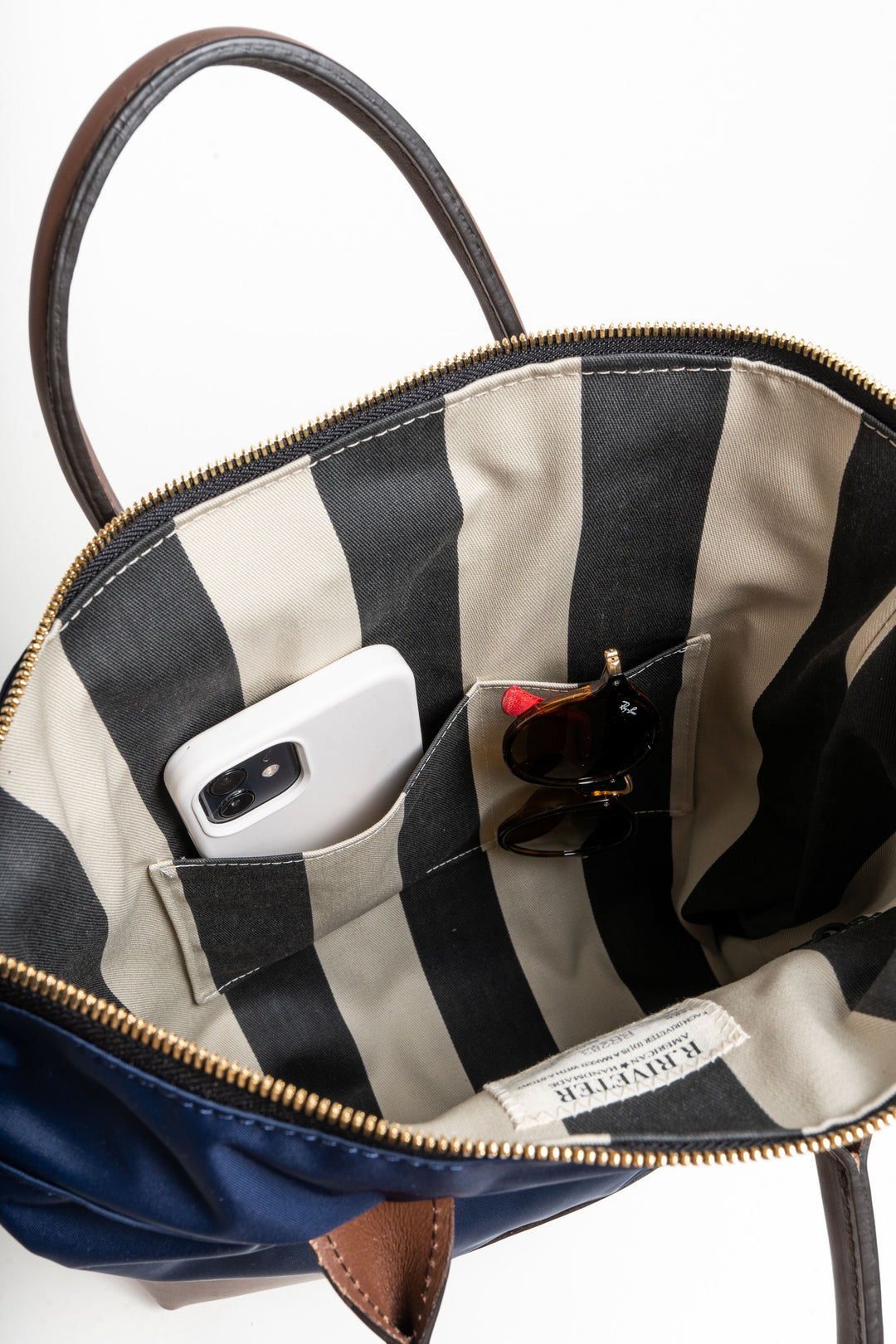 Otto | Navy Nylon + Brown Leather
---
In stock, ready to ship

Inventory on the way
The Otto is arguably R.Riveter's most popular and iconic handbag. With an adjustable crossbody strap and functional handles, the Otto is an incredible bag for any occasion. Wear it on your shoulder with a shortened strap, carry it by the handles, or sling it across your body as a hands-free crossbody bag!
R.Riveter's Nylon collection is here. Launching in the spirit of performance - this fabrication will go where a handbag has not gone before. Inspired by the iconic bomber jacket, this American made collection is travel ready. The durability and light hand of the nylon means you can blaze trails, AND look chic. It is the same amazing R.Riveter quality, mission, and community - but this time the water rolls right off and the dirt wipes right off. Read more about this new collection HERE.
Each R.Riveter handbag takes a journey across the country before arriving at your doorstep. Components are crafted by independent military spouses in their homes around the nation, and shipped to R.Riveter's FabShop to be assembled into a one-of-a-kind product.
Height 11" x Width 14" x Depth

 

3.5" x Opening Width 13"
100% nylon exterior with water-resistant conditioning 

Signature striped poly-cotton lining
Weight 1.5 lbs

Genuine Leather - For care instructions please visit HERE

Leather base with brass feet
Removable 1" leather cross body strap, adjustable from 38-48

 

inches, 
2 rolled leather handles,

 

3" drop
Two exterior open pockets
Two interior open pockets, one interior zipper pocket
Brass zipper closure
Inspiration Behind the Name
The Otto Handbag by R.Riveter is a tribute to the remarkable Elinor Otto, a pioneering woman who left an indelible mark on history. Elinor Otto, known fondly as the "Last Rosie the Riveter," exemplifies resilience, determination, and the spirit of empowerment. Born in 1919, Elinor was part of the iconic generation of women who stepped into the workforce during World War II, breaking barriers by joining the skilled workforce of riveters. She was an integral part of the homefront effort, contributing to the production of America's iconic warplanes, including the B-17 and the B-29 bombers. Her dedication and craftsmanship helped pave the way for generations of women in traditionally male-dominated industries.
The Otto Handbag symbolizes Elinor's unwavering strength and embodies her legacy of tenacity and empowerment. Each stitch and detail in this bag reflects her commitment to quality and excellence. Elinor Otto's story is a testament to the resilience of women, their ability to adapt, and their unwavering strength in the face of challenges.
Carrying the name of Elinor Otto, the Otto Handbag stands not only as a testament to her remarkable legacy but also as an inspiration for modern women, embodying the spirit of determination, perseverance, and the empowerment of breaking barriers.
Nylon Care Instructions: 
Spot clean with warm water, gentle soap and a soft, damp cloth. Allow to air dry.

Maintenance of R. Riveter Leather: 

We love using real veg tanned leather in our handbags because they just better with age.  If you happen to get scratches or water marks, you can usually get the bag looking new again with just a little maintenance.  
Please click here to read about how to care for your veg tanned leather. 

Shipping
Shipping is calculated based on weight and geographic location.
We offer FREE domestic shipping (excludes Hawaii & Alaska) on orders over $175.
What does shipping cost?
Based on the option you select at checkout:
Standard Flat rate: $8 flat rate
UPS Ground: Shipping rate is calculated based on weight and geographic location and will ship UPS Ground.
UPS 2 Day Air:  Shipping rate is calculated based on weight and geographic location and will ship UPS 2 Day Air.
How long does it take to process an order?
Orders will be processed within 5-7 business day out of our facility in Wauchula, FL.
How will the package be shipped?
Flat Rate will ship via USPS or UPS, or the service selected. 
If shipping to APO/FPO/DPO - select Standard Flat Rate and we will automatically ship via USPS.
Returns
Sometimes you get a bag that just doesn't quite fit your idea of what you wanted. No problem it happens! If you decided this in not the perfect bag for you, R. Riveter would love the chance to try again. Please return the bag to R. Riveter within 30 days and you will receive a full refund, minus the shipping fee. Full refunds will be given on all items as long as it was returned within 30 days. 
In order for a return or exchange to take place the item must be in good condition with tags still attached.

Submit a return request by going to our Return Portal and entering proper order information.

Exchanges
We are happy to exchange your bag for you if you are not satisfied with the style you originally ordered. You will have to send back your bag to be returned and then order the bag you would like to get instead. Because our Limited Edition Bags sell out so quickly we suggest you grab any limited edition bag as soon as you can and we will refund your money for the bag being returned as soon as we receive it in our warehouse.  
Customer is responsible for all freight charges. Shipping and handling is non-refundable.
Any return, exchange or repair will not be accepted without the return authorization form and will be returned to the customer.

*Gift Cards are Non-refundable & non-returnable
After 30 days, items may be returned for manufacturing repair.