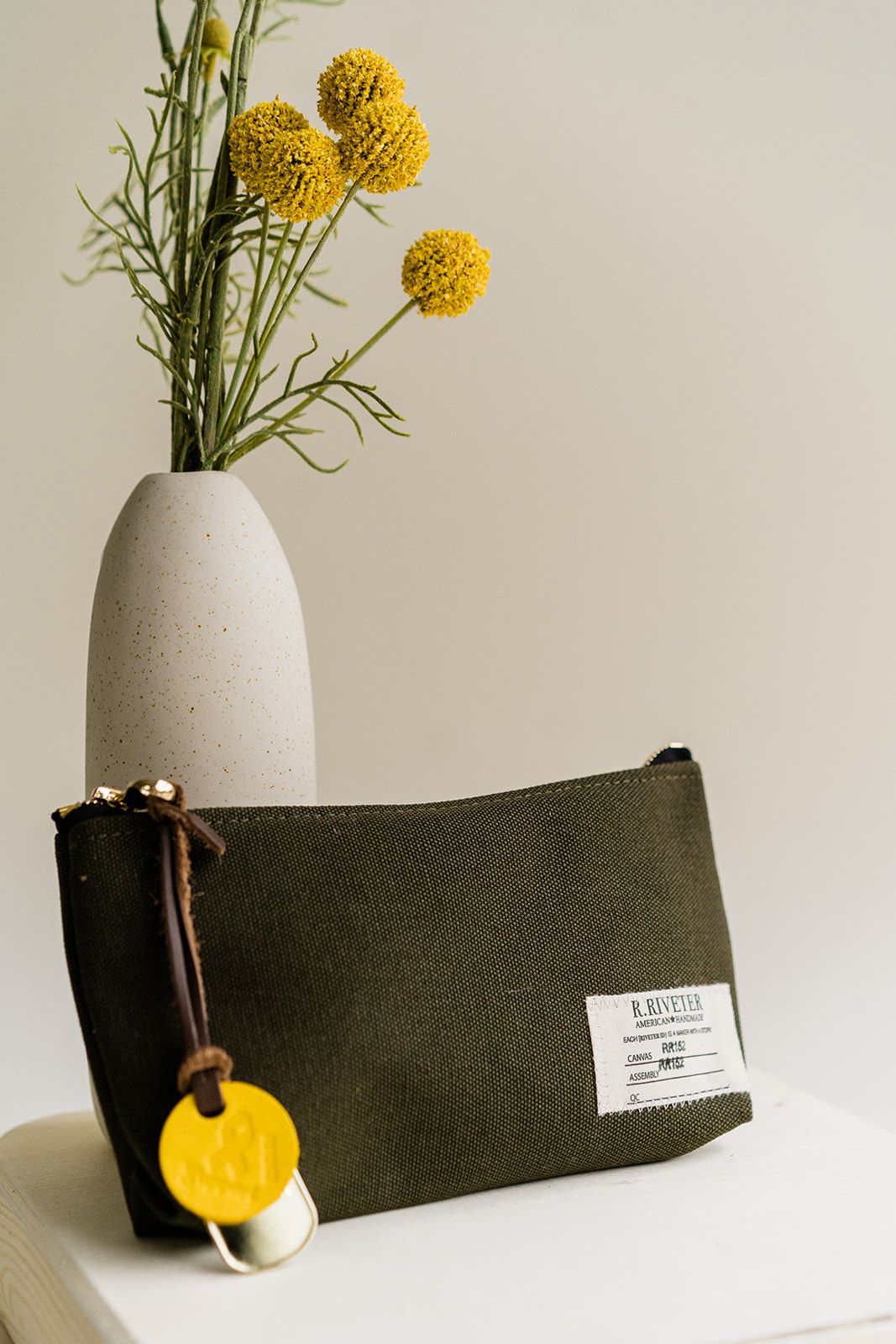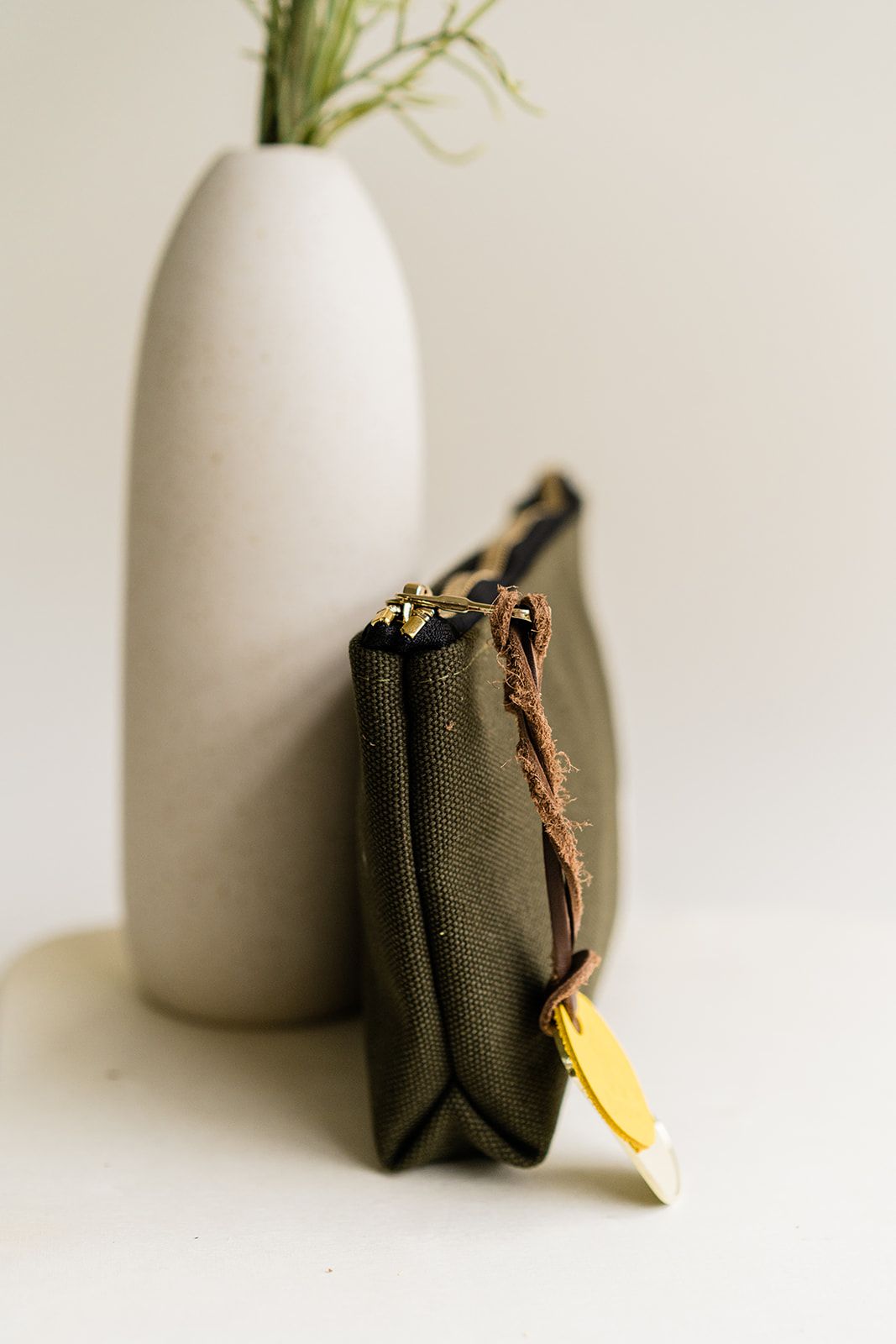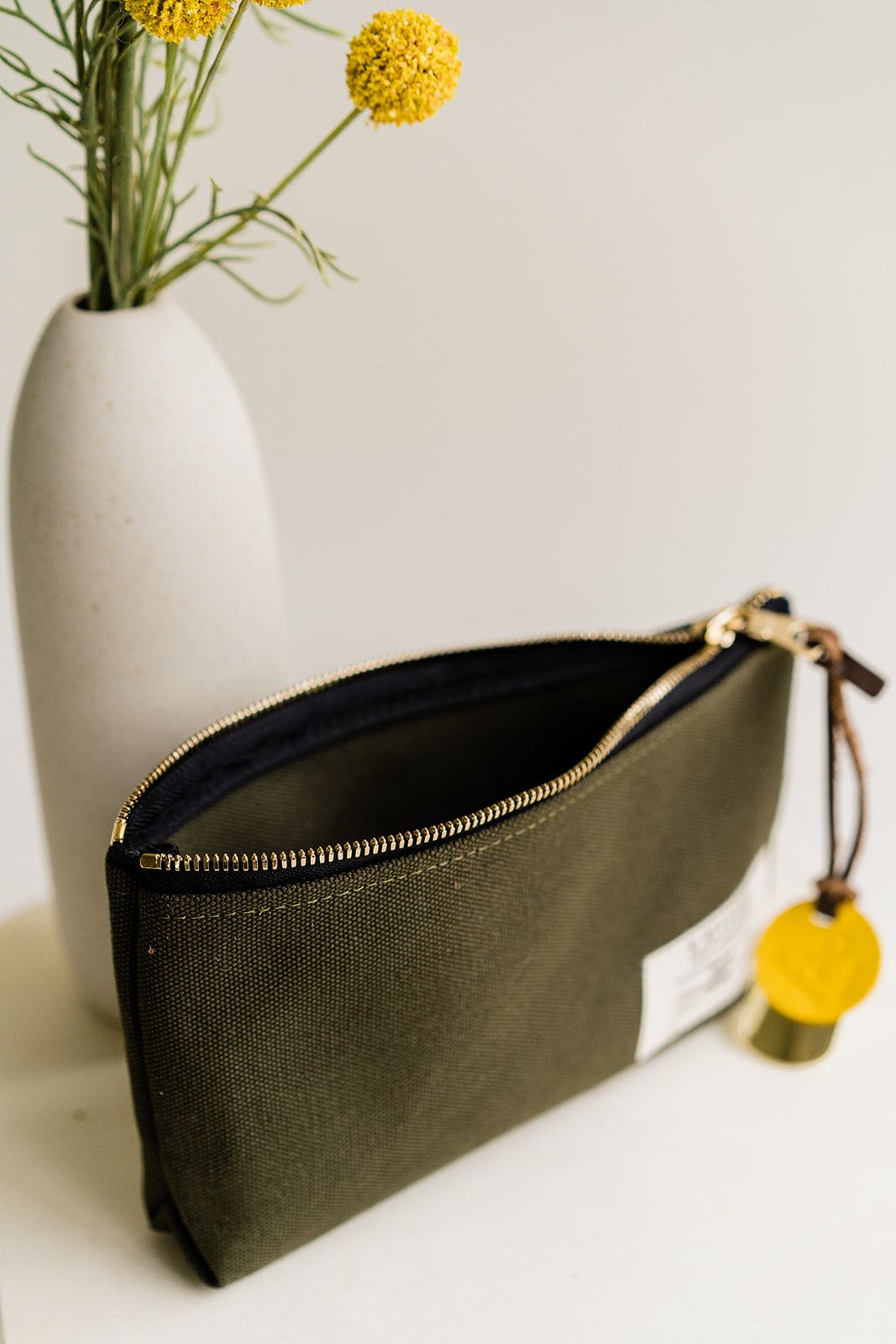 Lucy | Signature Fatigue Canvas Zipper Pouch
---
In stock, ready to ship

Inventory on the way
Make an impression with this pouch. The Lucy is small but mighty and allows you to switch bags with ease by storing your essentials here or you can use the Lucy as a standalone bag. Versatility at its finest.
With durable, water-resistant canvas and a convenient zipper pull, these versatile Lucys are a gusseted zipper pouch and can be used as a clutch, or to efficiently keep items separate from the rest of your handbag. 
Each R.Riveter handbag takes a journey across the country before arriving at your doorstep. Components are crafted by independent military spouses in their homes around the nation and shipped to R.Riveter's FabShop to be assembled into a one-of-a-kind product.

100% cotton 

Height 5.5" x Width 9.5" 

Weight .17 lbs
About our Earthly Twilight Collection
The Earthly Twilight Collection explores the stages of the sun and what its position can make us feel. Twilight is the moment when the sun is resting just below the horizon before it rises or after it has set. It leaves us with a soft glow and powdery hues. This quiet moment brings about optimism for the day that will come or the resetting and leaving behind the worries of a day that has passed.
It is when we can hear the smallest of creatures rejoicing to one another and sets the tone for the day that will follow.
Inspiration Behind the Name
Lucy Stone's story begins like most of ours: learning about the way the world works through our parents. What she uncovered though, was that men had an advantage and special privileges over women for no apparent reason, like, whatsoever. And this totally did not fly for her. 
In the moment of time she was born into, women had no voting rights, barely any rights over their bodies, were paid significantly less than their male counterparts, and on top of it all had to wear long dresses layered with petticoats practically everywhere and in any season. Anyone else feel icky just thinking about it? 
Our heroine's story picks up at the age of 16 when she began teaching in district schools. She noticed the major pay gap between her and the men who taught the same material and voiced a huge "nope" to the committee. She was met with a "too bad" and a shrug. 
Now that her blood was really boiling, let's move on to her days in college, because yes, our girl was motivated to be heard. She started a debate club with a few of her gal pals and guess what—when she debated a guy from a newspaper over the topic of women's rights, she totally blew him out of the water. *You go girl!* This led to her confidence to take on the government and demand that women have more rights starting with voting. You can thank her and her hard work for many of the rights we enjoy today as women. 
Stone is remembered for being a powerful public speaker, an abolitionist, and suffragist. But truth be told she had her hand in so many more things that we didn't even scratch the surface of (like her role in dress reform because she was totally over having to wear dresses every day and her work in roles within a marriage). *swooning times a thousand* 
Fun fact: Lucy never took the last name of her husband Henry Blackwell because she felt doing so erased her of her own identity. (Henry was in full support of course. We love seeing a man who backs his woman like he did) 
Canvas Care Suggestions: 

When spot cleaning the canvas, we suggest using a brush or sponge with water only to wipe it off soiled area. We do not recommend using anything other than water as it could discolor canvas material.  
Shipping
Shipping is calculated based on weight and geographic location.
We offer FREE domestic shipping (excludes Hawaii & Alaska) on orders over $175.
What does shipping cost?
Based on the option you select at checkout:
Standard Flat rate: $8 flat rate
UPS Ground: Shipping rate is calculated based on weight and geographic location and will ship UPS Ground.
UPS 2 Day Air:  Shipping rate is calculated based on weight and geographic location and will ship UPS 2 Day Air.
How long does it take to process an order?
Orders will be processed within 5-7 business day out of our facility in Wauchula, FL.
How will the package be shipped?
Flat Rate will ship via USPS or UPS, or the service selected. 
If shipping to APO/FPO/DPO - select Standard Flat Rate and we will automatically ship via USPS.
Returns
Sometimes you get a bag that just doesn't quite fit your idea of what you wanted. No problem it happens! If you decided this in not the perfect bag for you, R. Riveter would love the chance to try again. Please return the bag to R. Riveter within 30 days and you will receive a full refund, minus the shipping fee. Full refunds will be given on all items as long as it was returned within 30 days. 
In order for a return or exchange to take place the item must be in good condition with tags still attached.

Submit a return request by going to our Return Portal and entering proper order information.

Exchanges
We are happy to exchange your bag for you if you are not satisfied with the style you originally ordered. You will have to send back your bag to be returned and then order the bag you would like to get instead. Because our Limited Edition Bags sell out so quickly we suggest you grab any limited edition bag as soon as you can and we will refund your money for the bag being returned as soon as we receive it in our warehouse.  
Customer is responsible for all freight charges. Shipping and handling is non-refundable.
Any return, exchange or repair will not be accepted without the return authorization form and will be returned to the customer.

*Gift Cards are Non-refundable & non-returnable
After 30 days, items may be returned for manufacturing repair.