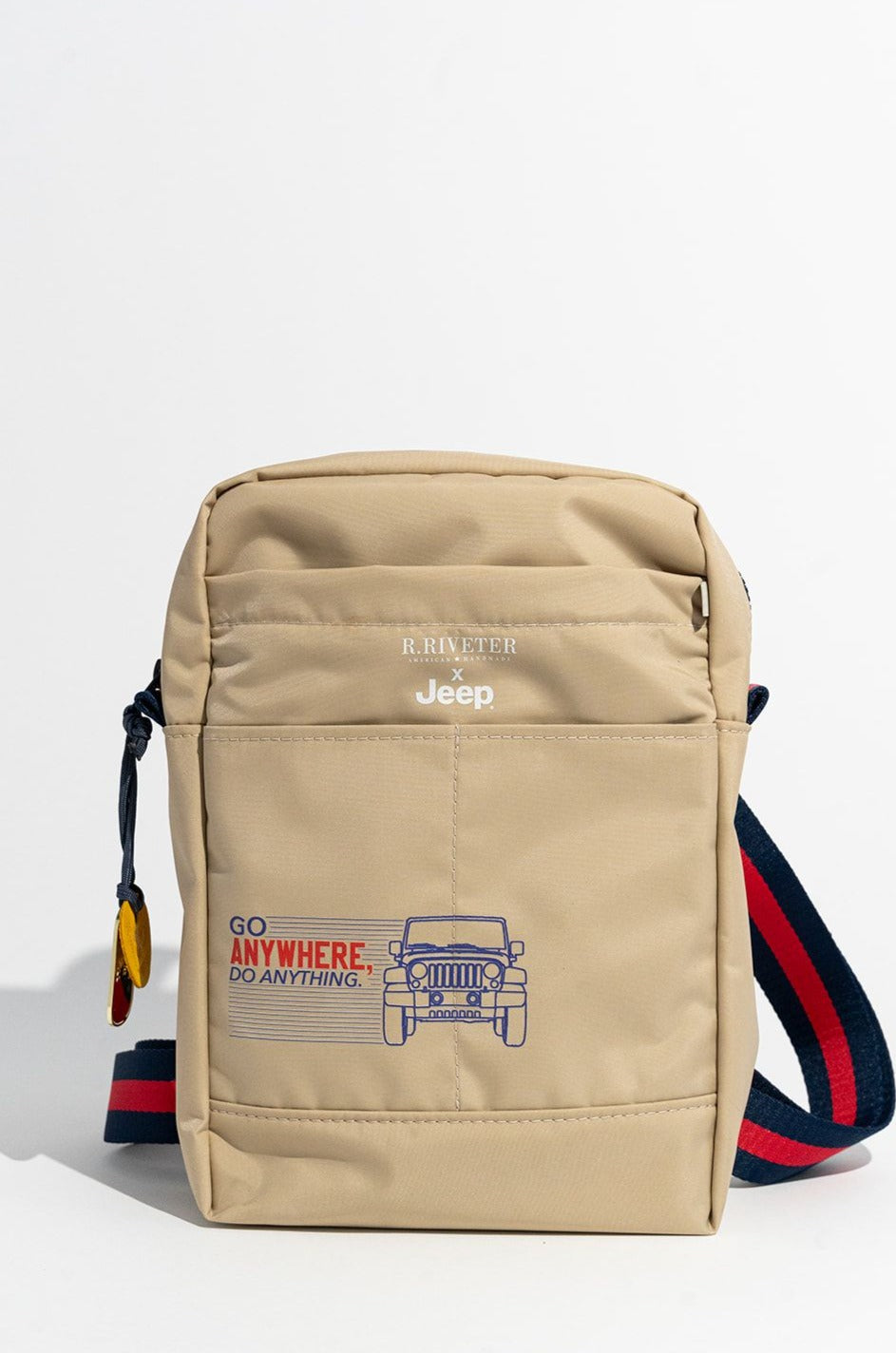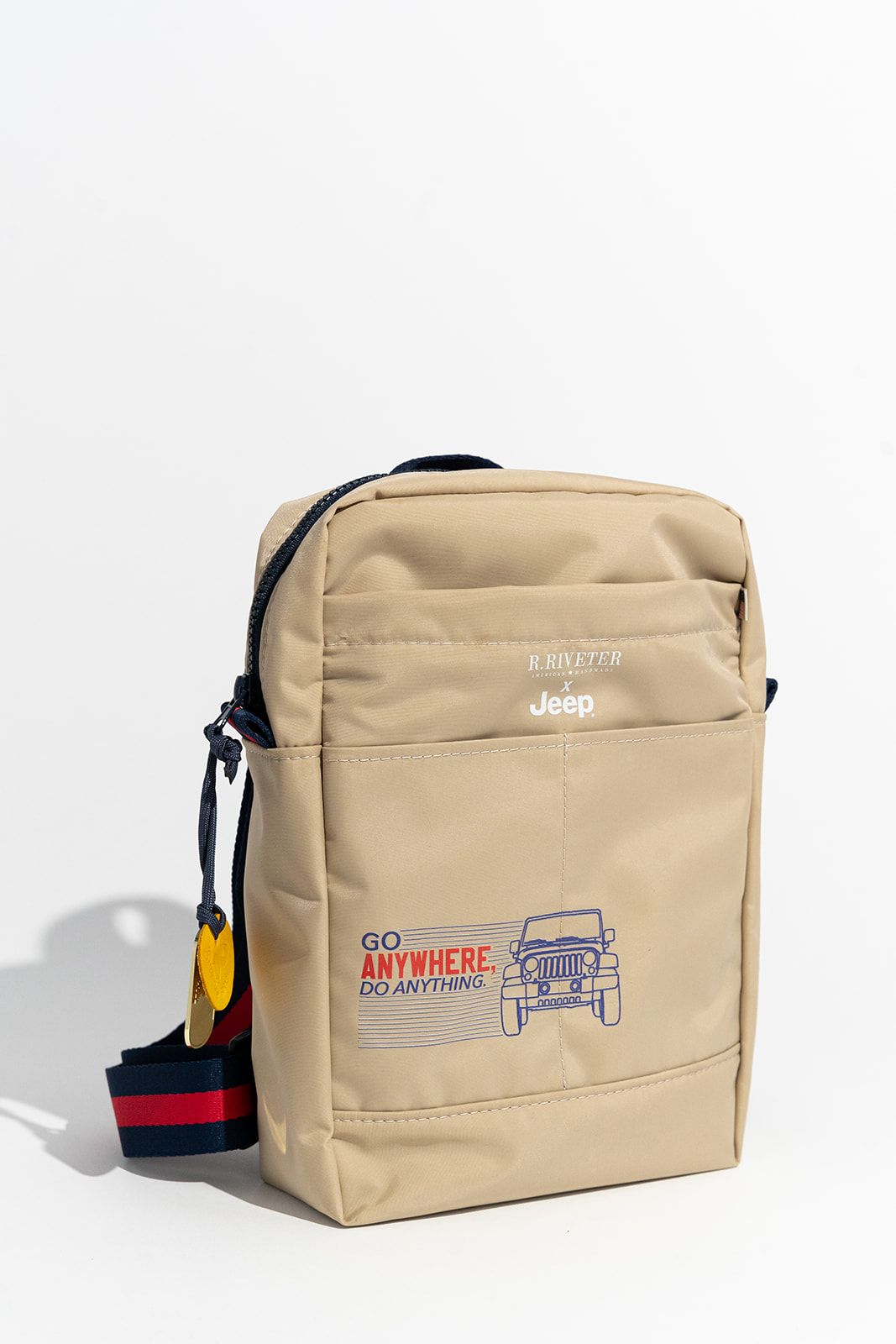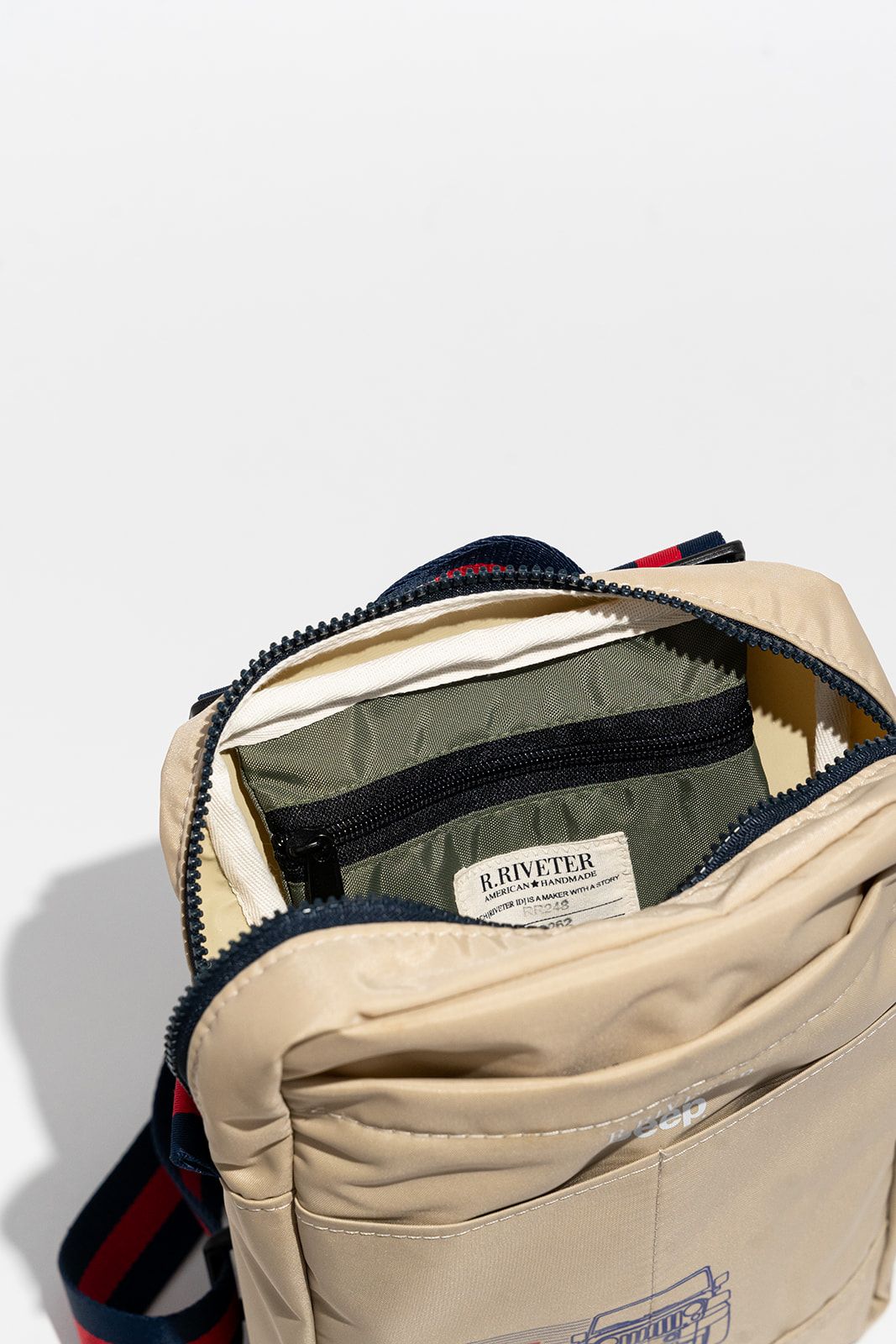 Josie | JEEP® Collaboration Khaki Nylon
---
In stock, ready to ship

Inventory on the way
In a bold and innovative collaboration that bridges the worlds of automotive excellence and artisanal craftsmanship, Jeep and R. Riveter have joined forces to create an awe-inspiring masterpiece – a fusion of the iconic Super Jeep and the time-honored legacy of military parachutes. This partnership, born from a shared appreciation for rugged durability and artistic ingenuity, unveils a remarkable synergy that encapsulates the spirit of adventure, resilience, and the modern-day superhero.
The partnership extends beyond the product itself, as Jeep and R. Riveter combine their passions to support veterans and military families. A portion of the proceeds from the collaboration will go directly to the hands of military families in the form of mobile, flexible income - underscoring the shared commitment to giving back to those who have served and sacrificed and those that continue to do so.
The Josie Mini Backpack is comfortable enough to wear all day but cute enough to pair with any outfit. It's the right size for traveling, outdoor adventures, or days on the go. The Josie fits tablets, books, and other accessories with ease. ​
Each R.Riveter handbag takes a journey across the country before arriving at your doorstep. Components are crafted by independent military spouses in their homes around the nation and shipped to R.Riveter's FabShop to be assembled into a one-of-a-kind product.​

Height 11" x Width 8" x Depth 3" x Opening Width 7.5"

​

Weight: 1lb

​

100% nylon exterior with water-resistant conditioning​

​

Adjustable 1.5" webbed straps with release buckle

​

Exterior front zipper pocket

​

2 Front slip pockets

​

Interior zipper pocket

​
Inspiration Behind the Name The Josie Mini Backpack honors American inventor Josephine Cochrane, who designed the first successful hand-powered dishwasher. Born in 1839 in Ohio, Josephine moved to Chicago in 1870 with her husband. After several of her heirloom dishes were chipped during clean up after a dinner party, Josephine sought a better alternative to cleaning china. ​
Once she received her patent in 1886, she founded a manufacturing company to manufacture her new dishwashing machines. Her invention won the prize for "best mechanical construction, durability and adaption to its line of work" at the World's Columbian Exposition in Chicago in 1893. Josephine was post-humously inducted into the National Inventors Hall of Fame in 2006.​
The Josie Mini Backpack celebrates Josephine Cochran's dedication to finding a solution and the uphill battle she fought against gender stereotypes as a female inventor in the 1800s.
Nylon Care Instructions: 
Spot clean with warm water, gentle soap and a soft, damp cloth. Allow to air dry.
Shipping
Shipping is calculated based on weight and geographic location.
We offer FREE domestic shipping (excludes Hawaii & Alaska) on orders over $175.
What does shipping cost?
Based on the option you select at checkout:
Standard Flat rate: $8 flat rate
UPS Ground: Shipping rate is calculated based on weight and geographic location and will ship UPS Ground.
UPS 2 Day Air:  Shipping rate is calculated based on weight and geographic location and will ship UPS 2 Day Air.
How long does it take to process an order?
Orders will be processed within 5-7 business day out of our facility in Wauchula, FL.
How will the package be shipped?
Flat Rate will ship via USPS or UPS, or the service selected. 
If shipping to APO/FPO/DPO - select Standard Flat Rate and we will automatically ship via USPS.
Returns
Sometimes you get a bag that just doesn't quite fit your idea of what you wanted. No problem it happens! If you decided this in not the perfect bag for you, R. Riveter would love the chance to try again. Please return the bag to R. Riveter within 30 days and you will receive a full refund, minus the shipping fee. Full refunds will be given on all items as long as it was returned within 30 days. 
In order for a return or exchange to take place the item must be in good condition with tags still attached.

Submit a return request by going to our Return Portal and entering proper order information.

Exchanges
We are happy to exchange your bag for you if you are not satisfied with the style you originally ordered. You will have to send back your bag to be returned and then order the bag you would like to get instead. Because our Limited Edition Bags sell out so quickly we suggest you grab any limited edition bag as soon as you can and we will refund your money for the bag being returned as soon as we receive it in our warehouse.  
Customer is responsible for all freight charges. Shipping and handling is non-refundable.
Any return, exchange or repair will not be accepted without the return authorization form and will be returned to the customer.

*Gift Cards are Non-refundable & non-returnable
After 30 days, items may be returned for manufacturing repair.