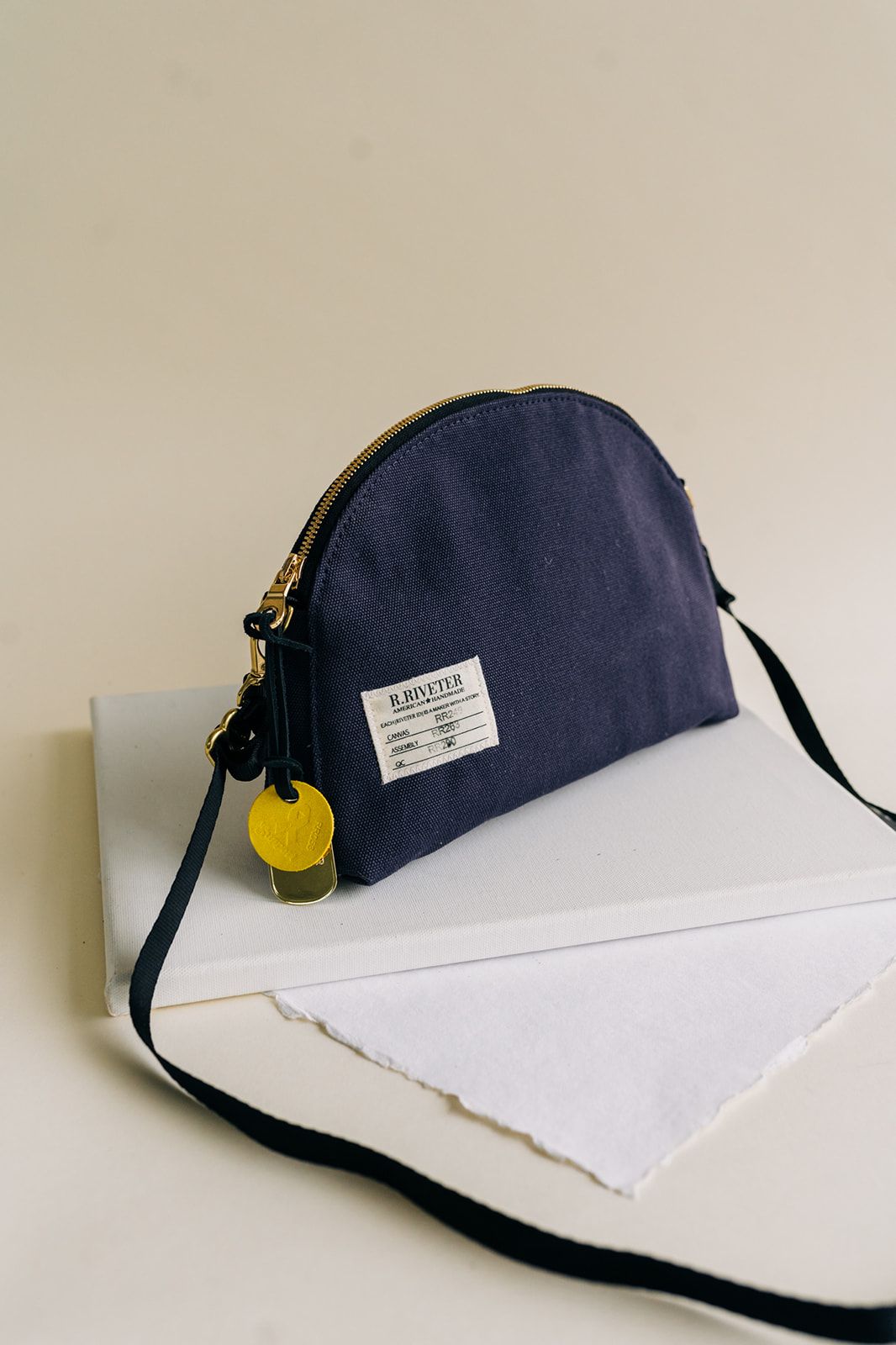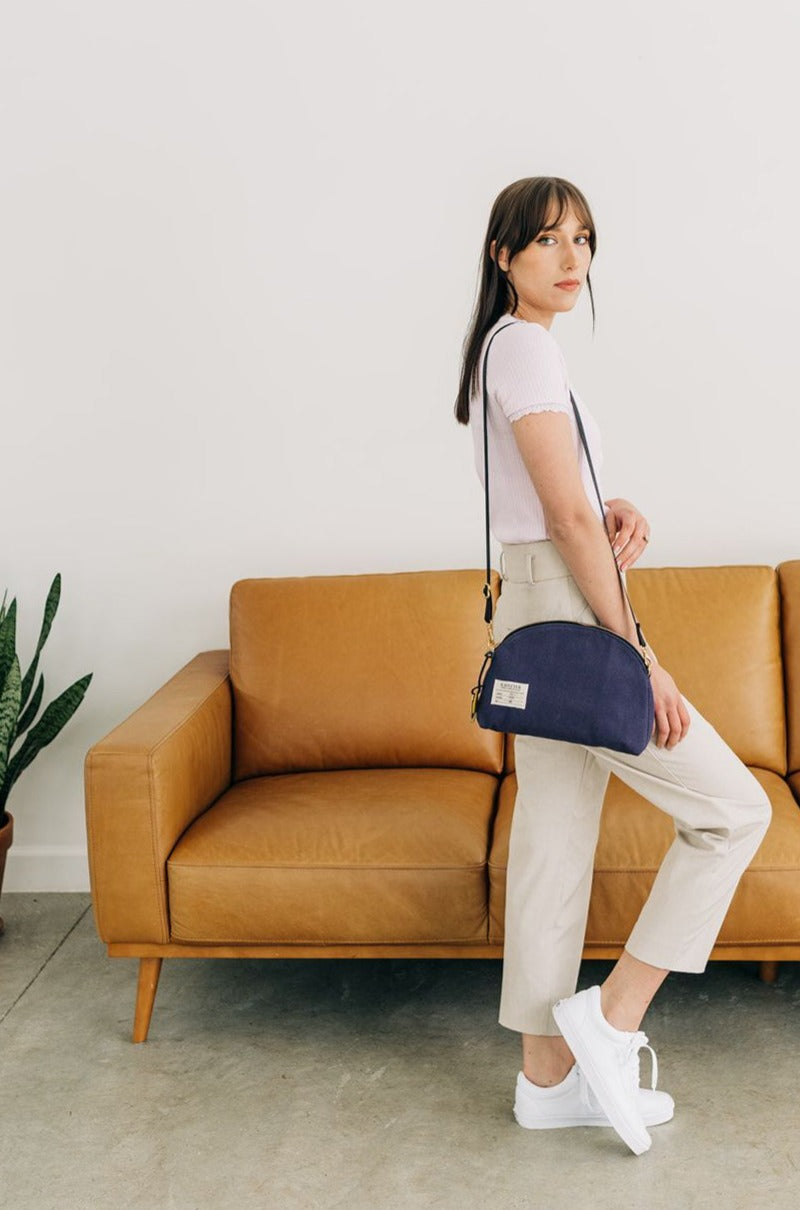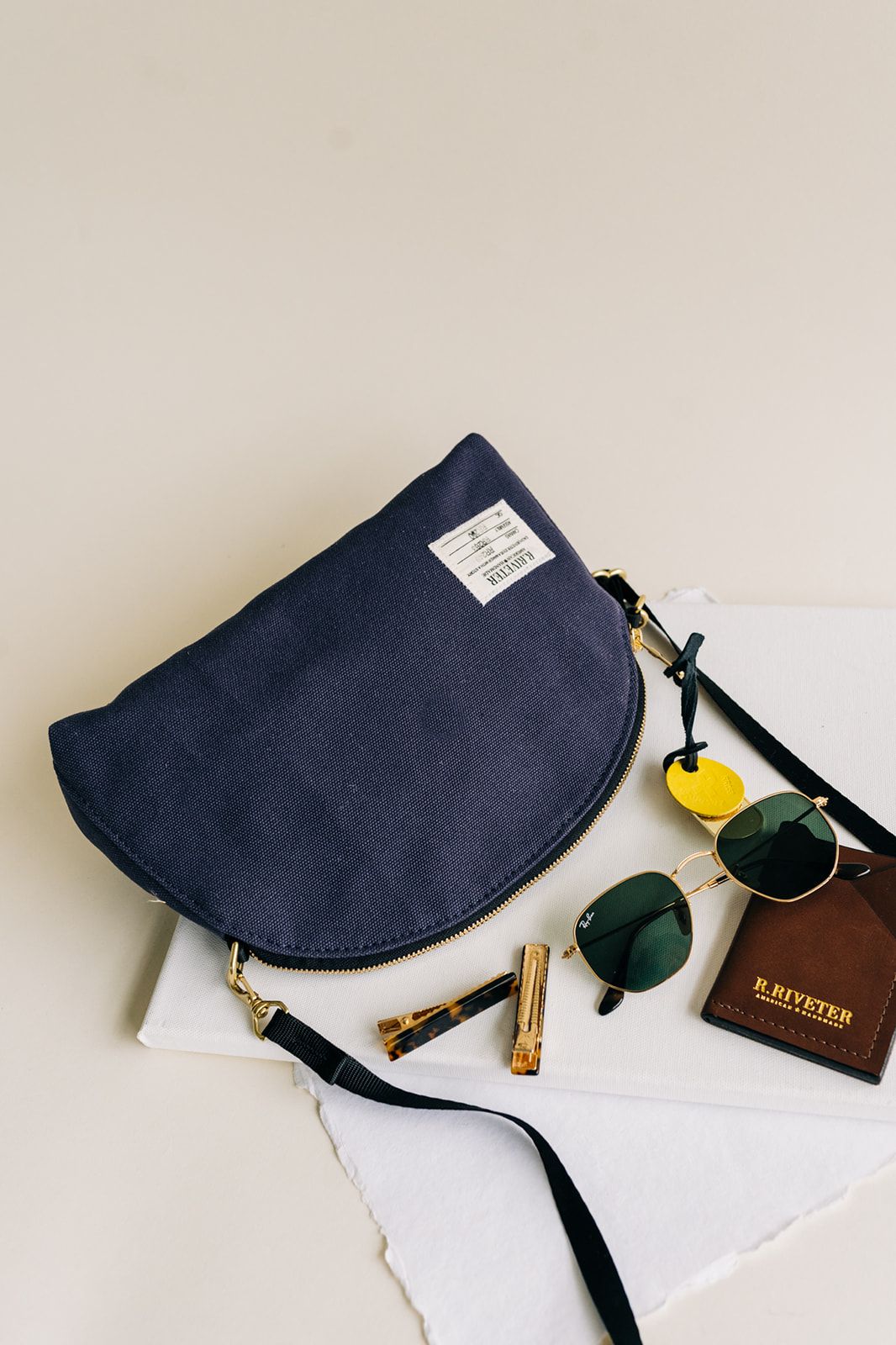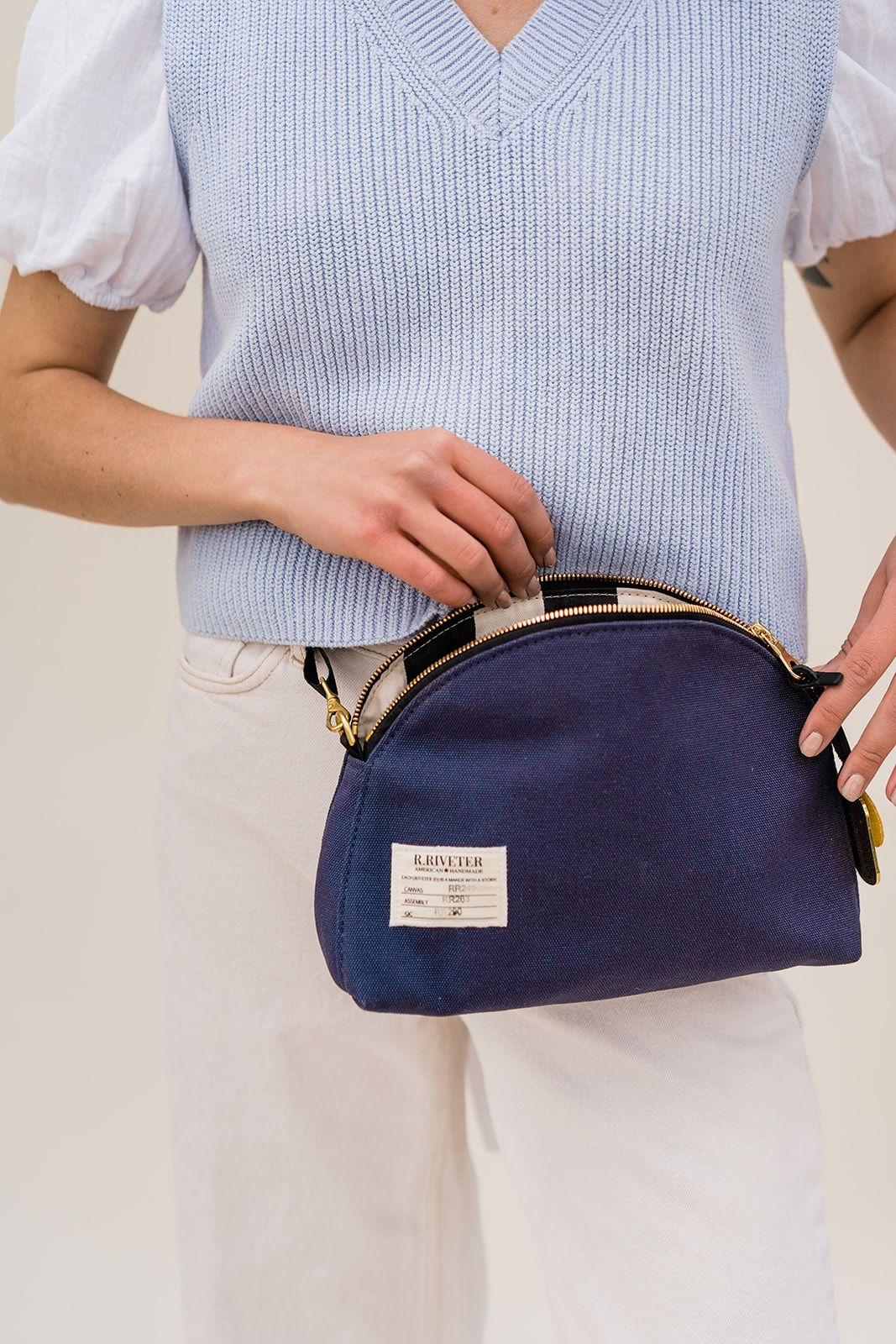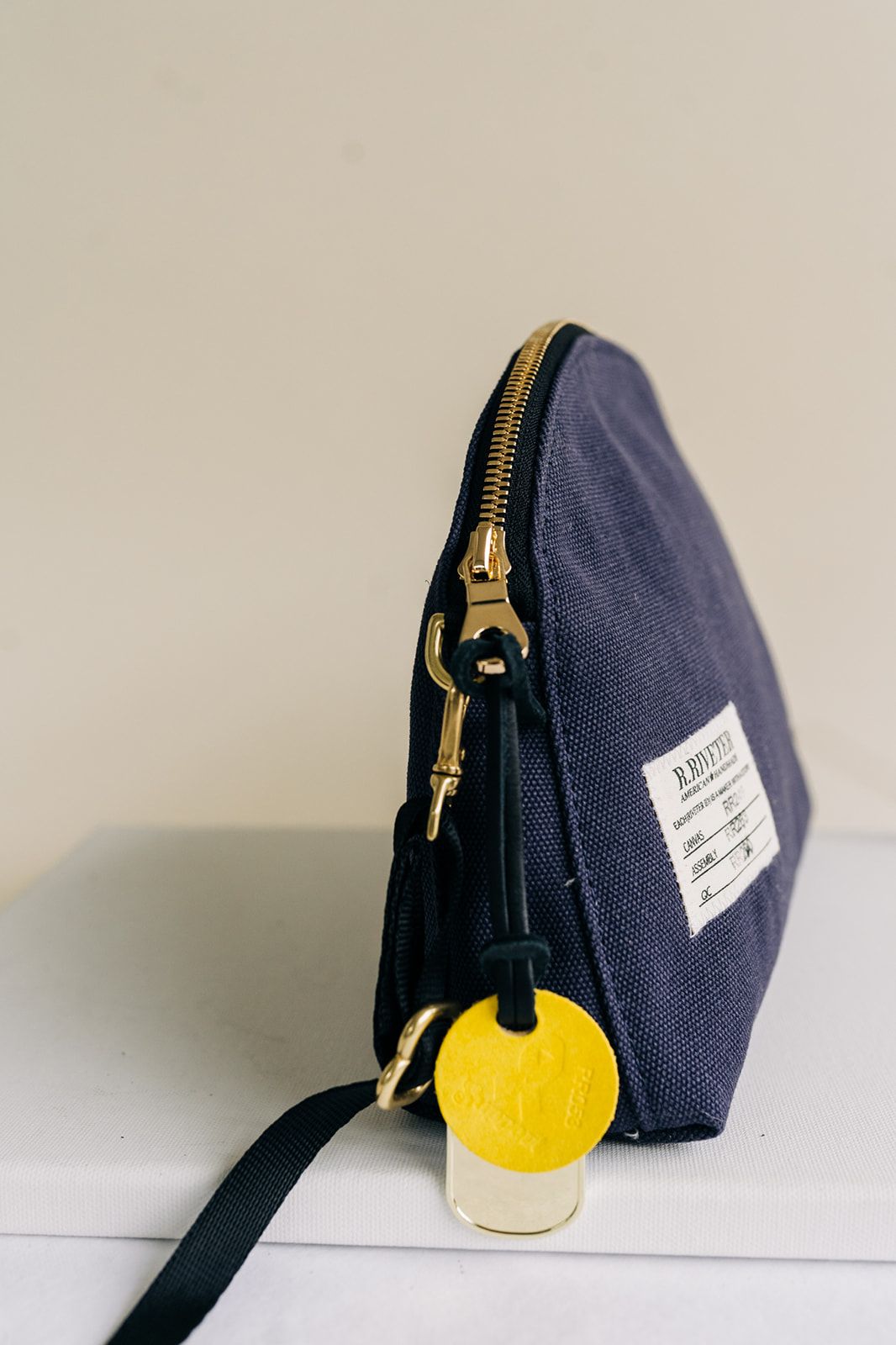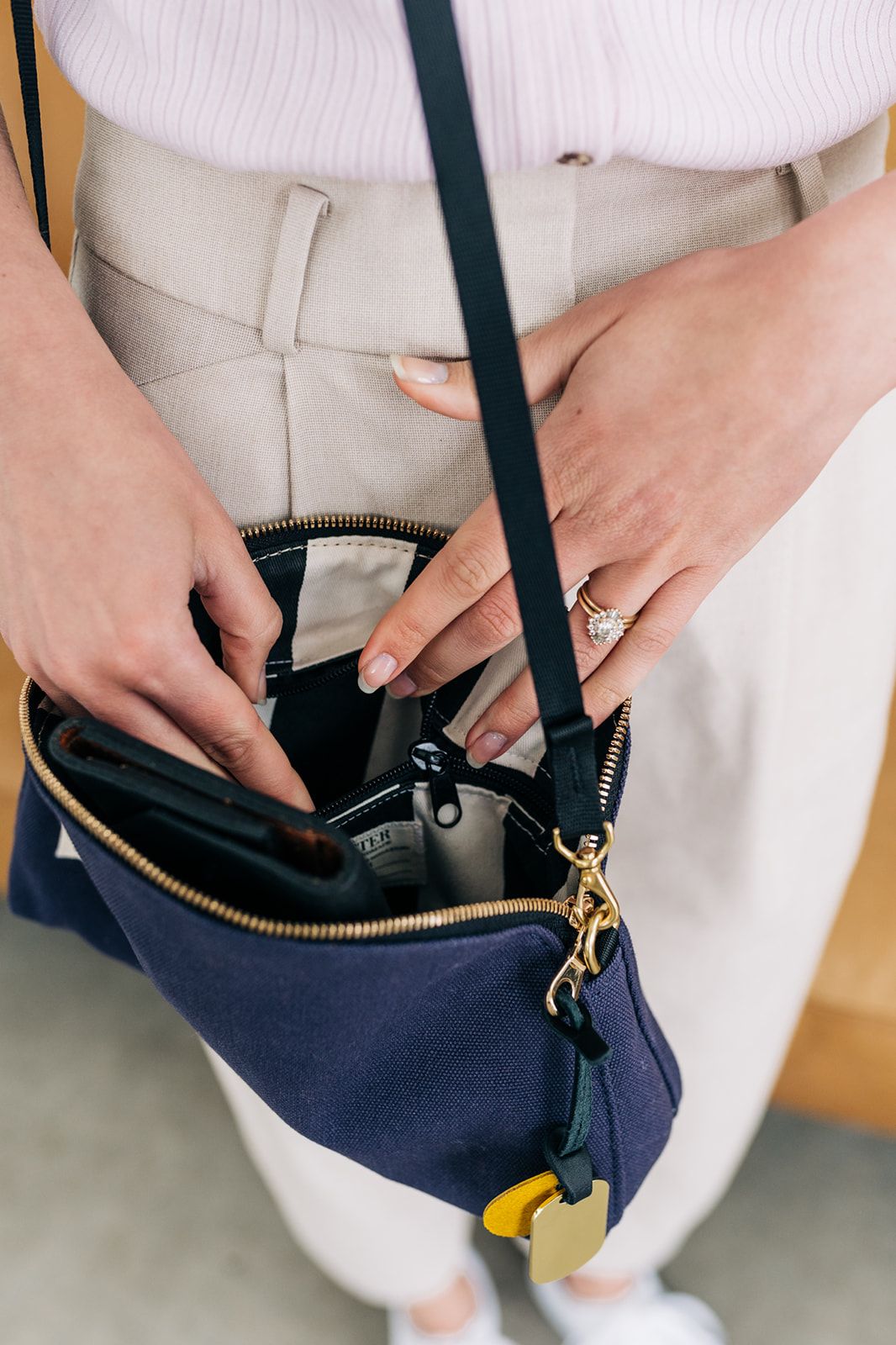 Hopper | Signature Navy Canvas
---
In stock, ready to ship

Inventory on the way
The Hopper is your go-to adventure bag that won't weigh you down. The half-moon shape and size are trend forward and super unique. Why this is the bag for you: the brass zipper closure ensures you can move freely without worry of anything falling out. That bike ride, hike, or wild day out with the kiddos has nothing on this bag. Wear it cross body, as a belt bag *sending major fanny pack vibes but in the best way* or classically on the shoulder. The nylon strap allows you to wear this bag comfortably for hours into your adventure and we love that for you.

Each R.Riveter handbag takes a journey across the country before arriving at your doorstep. Components are crafted by independent military spouses in their homes around the nation, and shipped to R.Riveter's FabShop to be assembled into a one-of-a-kind product.
Height

 

8" x Width

 

11" x Depth (at base) 3" x Opening Width 10"
Water-resistant 100% cotton canvas body

Signature striped poly/cotton lining
Removable 1/2 inch nylon cross body strap, adjustable from 29-53

 

inches

Two interior open pockets, One zipper pocket 

Brass zipper closure
Inspiration Behind the Name
Grace Hopper—She Developed a New Computer Language
Setting the scene: It's 1928. Grace Hopper graduates from Vassar with a bachelor's degree in Mathematics and physics. She's determined to learn more—it's been this way since she was a little girl. She plans to get her masters and Ph.D. from Yale and she is certain she can do it. This is just the beginning of Miss Grace Hopper.
Writing her legacy: At a young age she showed promising and frankly ultra-impressive initiative. She was determined to serve her country in a huge way and joined the United States Navy Reserve. Her insane smarts landed her a role on the Bureau of Ships Computation Project where she eventually suggested the use of a new programming language using English in place of symbols. Naturally, people were hesitant but were curious. This was the beginning of the computer language "COBOL". Hopper went on to serve in the military and built important systems for 43 years and retired with the rank of Rear Admiral and decorated with countless awards (excuse us while we pick up our jaw from the floor). Even after her retirement, she worked as a consultant to Digital Equipment Corporation aiding on committees, lecturing, and visiting engineering facilities. Her success in a male dominated field deserves a standing ovation. You go Grace!
Fun fact: she coined the term "debugging" in reference to fixing an issue within a computer when she found an actual moth within the system.
Canvas Care Suggestions: 
When spot cleaning the canvas, we suggest using a brush or sponge with water only to wipe it off soiled area. We do not recommend using anything other than water as it could discolor canvas material.  
Shipping
Shipping is calculated based on weight and geographic location.
We offer FREE domestic shipping (excludes Hawaii & Alaska) on orders over $175.
What does shipping cost?
Based on the option you select at checkout:
Standard Flat rate: $8 flat rate
UPS Ground: Shipping rate is calculated based on weight and geographic location and will ship UPS Ground.
UPS 2 Day Air:  Shipping rate is calculated based on weight and geographic location and will ship UPS 2 Day Air.
How long does it take to process an order?
Orders will be processed within 5-7 business day out of our facility in Wauchula, FL.
How will the package be shipped?
Flat Rate will ship via USPS or UPS, or the service selected. 
If shipping to APO/FPO/DPO - select Standard Flat Rate and we will automatically ship via USPS.
Returns
Sometimes you get a bag that just doesn't quite fit your idea of what you wanted. No problem it happens! If you decided this in not the perfect bag for you, R. Riveter would love the chance to try again. Please return the bag to R. Riveter within 30 days and you will receive a full refund, minus the shipping fee. Full refunds will be given on all items as long as it was returned within 30 days. 
In order for a return or exchange to take place the item must be in good condition with tags still attached.

Submit a return request by going to our Return Portal and entering proper order information.

Exchanges
We are happy to exchange your bag for you if you are not satisfied with the style you originally ordered. You will have to send back your bag to be returned and then order the bag you would like to get instead. Because our Limited Edition Bags sell out so quickly we suggest you grab any limited edition bag as soon as you can and we will refund your money for the bag being returned as soon as we receive it in our warehouse.  
Customer is responsible for all freight charges. Shipping and handling is non-refundable.
Any return, exchange or repair will not be accepted without the return authorization form and will be returned to the customer.

*Gift Cards are Non-refundable & non-returnable
After 30 days, items may be returned for manufacturing repair.