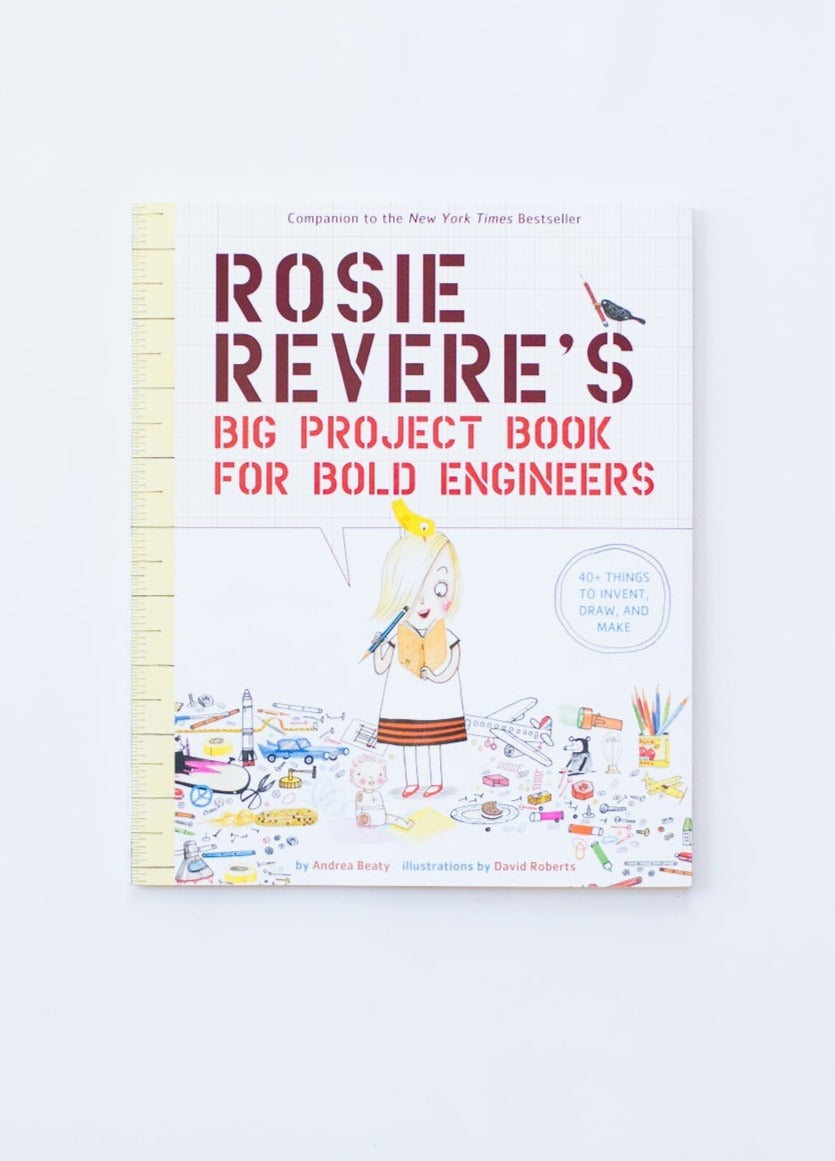 Abrams Books | Rosie Revere's Big Project Book for Bold Engineers
---
Embark on an adventure of personal creativity and invention with fan favorite Rosie Revere! This activity book features art from the picture book Rosie Revere, Engineer and will inspire young readers with activities of all kinds. Kids will have the chance to design a better bicycle, build a simple catapult, construct a solar oven, and more! This empowering activity book will teach problem-solving and creative-thinking skills crucial to STEM fields while also providing opportunities for its readers to try new things and, sometimes, to fail. As the picture book so brilliantly showed hundreds of thousands of young readers, flops are an inevitable part of success and something to be celebrated rather than feared. Created by Andrea Beaty and David Roberts, the same New York Times bestselling team who brought us Rosie Revere, Iggy Peck, and Ada Twist, this activity book will be perfect for old and new fans alike!
9" x 11" paperback
96 pages
Full-color illustrations
About The R. Riveter Marketplace
The R.Riveter  Marketplace is a curated collection of American Made and Mission-Driven makers.
About the Author
Andrea Beaty is the author of Iggy Peck, Architect and Rosie Revere, Engineer, among other children's titles. She lives just outside Chicago. David Roberts has illustrated many children's books, including Iggy Peck, Architect; Rosie Revere, Engineer; and Ada Twist, Scientist. He lives in London, where, when not drawing, he likes to make hats.
Shipping
Shipping is calculated based on weight and geographic location.
We offer FREE domestic shipping (excludes Hawaii & Alaska) on orders over $175.
What does shipping cost?
Based on the option you select at checkout:
Standard Flat rate: $8 flat rate
UPS Ground: Shipping rate is calculated based on weight and geographic location and will ship UPS Ground.
UPS 2 Day Air:  Shipping rate is calculated based on weight and geographic location and will ship UPS 2 Day Air.
How long does it take to process an order?
Orders will be processed within 5-7 business day out of our facility in Wauchula, FL.
How will the package be shipped?
Flat Rate will ship via USPS or UPS, or the service selected. 
If shipping to APO/FPO/DPO - select Standard Flat Rate and we will automatically ship via USPS.
Returns
Sometimes you get a bag that just doesn't quite fit your idea of what you wanted. No problem it happens! If you decided this in not the perfect bag for you, R. Riveter would love the chance to try again. Please return the bag to R. Riveter within 30 days and you will receive a full refund, minus the shipping fee. Full refunds will be given on all items as long as it was returned within 30 days. 
In order for a return or exchange to take place the item must be in good condition with tags still attached.

Submit a return request by going to our Return Portal and entering proper order information.

Exchanges
We are happy to exchange your bag for you if you are not satisfied with the style you originally ordered. You will have to send back your bag to be returned and then order the bag you would like to get instead. Because our Limited Edition Bags sell out so quickly we suggest you grab any limited edition bag as soon as you can and we will refund your money for the bag being returned as soon as we receive it in our warehouse.  
Customer is responsible for all freight charges. Shipping and handling is non-refundable.
Any return, exchange or repair will not be accepted without the return authorization form and will be returned to the customer.

*Gift Cards are Non-refundable & non-returnable
After 30 days, items may be returned for manufacturing repair.