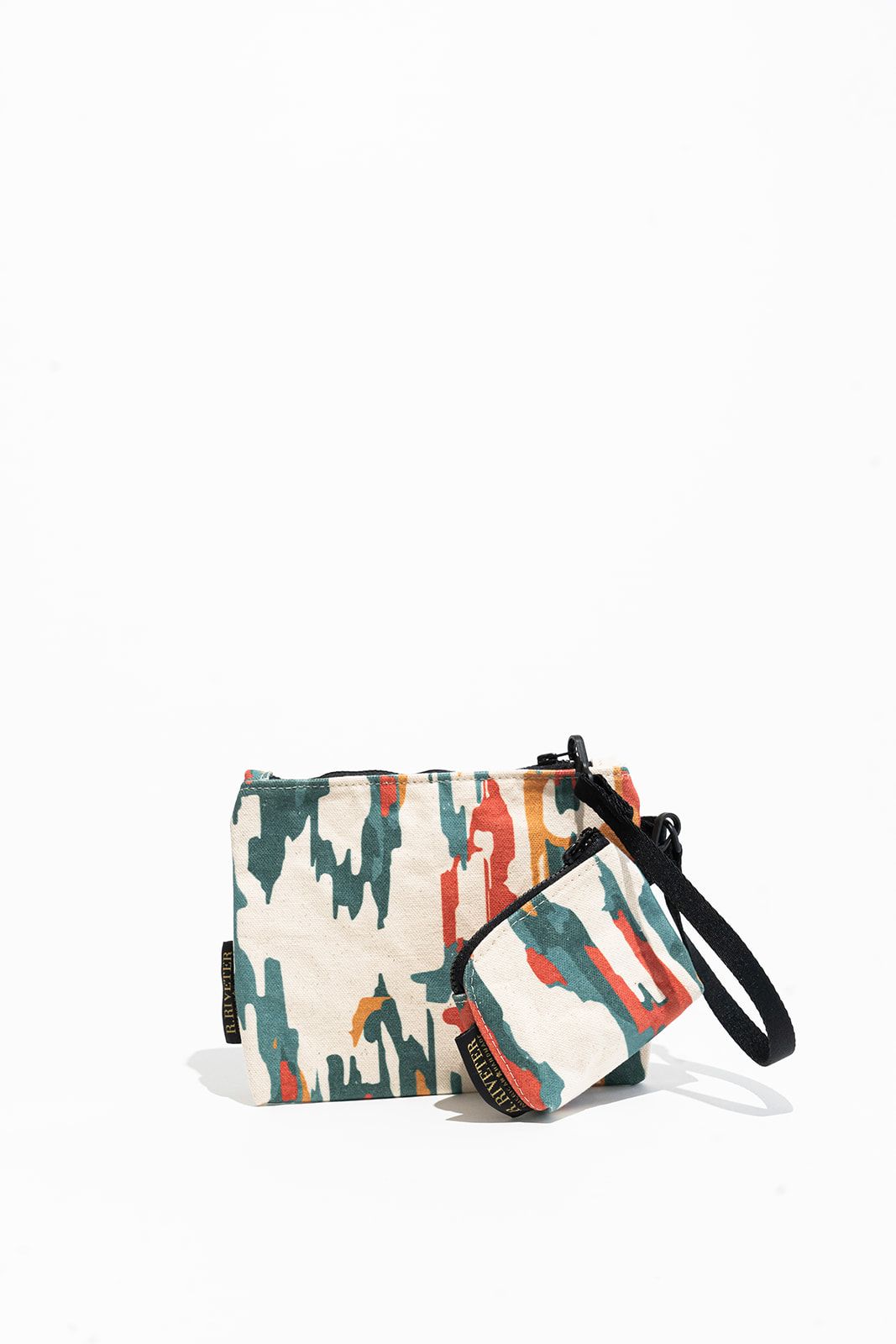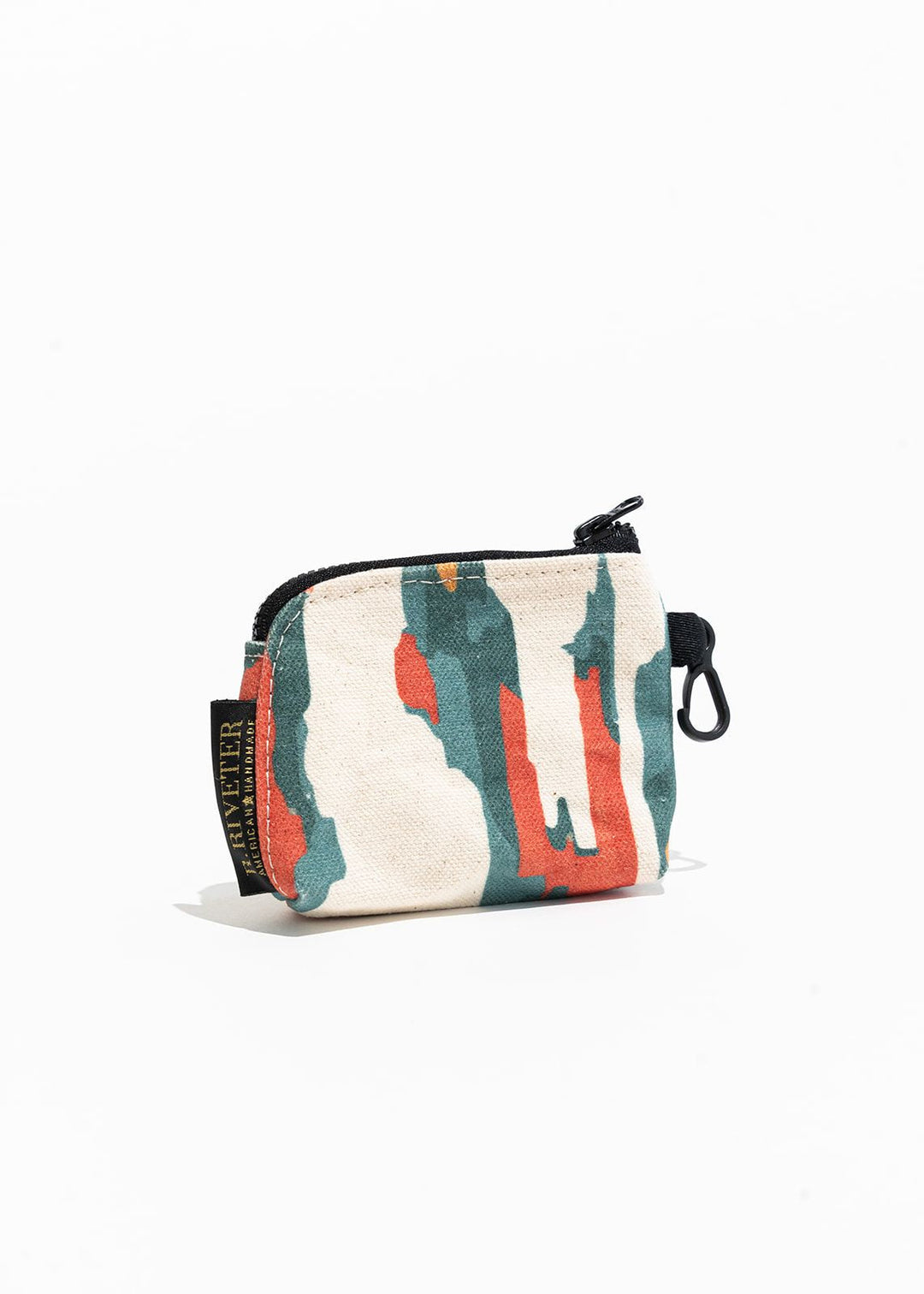 Adeline | Bark Printed Canvas
---
The Adeline pouch set is perfect for storing make-up, tech accessories, and other small items while on the go. Stick this duo in your tote, backpack, or travel bag, and keep everything you need organized and easily accessible. You'll never have to dig through your purse to find your headphones again.  
This set includes two pouches – one small pouch with a clip and one large pouch with a black wristlet. You can keep them together with the clips or separate them and carry the large pouch as a clutch. This duo is versatile and easy to clean.  
Each R.Riveter handbag takes a journey across the country before arriving at your doorstep. Components are crafted by independent military spouses in their homes around the nation and shipped to R.Riveter's FabShop to be assembled into a one-of-a-kind product. 
Dimensions
Large Pouch: Height 6.6" x Depth .25" x Width 8.2"

Small Pouch: Height 3.5" x Depth 1" x Width 5"

Weight: .3lbs

Cotton Canvas exterior

Unlined
Inspiration Behind the Name
The Adeline honors Adeline Van Buren, a trailblazer in travel in the United States. Born in 1889, Adeline and her sister set out on a cross-country motorcycle journey to prove a point. They rode 5500 miles in 60 days, from Brooklyn to Los Angeles and down into Mexico, in protest of not being allowed to join the military dispatch service during World War I.
The sisters dedicated their motorcycle journey to proving that women were capable of doing the job as well as a man. While considered icons today, the sisters were arrested several times during their journey for wearing "men's clothes" and were often criticized for their feat. The Adeline pouch set celebrates their dedication to advancing women's rights.
Shipping
Shipping is calculated based on weight and geographic location.
We offer FREE domestic shipping (excludes Hawaii & Alaska) on orders over $175.
What does shipping cost?
Based on the option you select at checkout:
Standard Flat rate: $8 flat rate
UPS Ground: Shipping rate is calculated based on weight and geographic location and will ship UPS Ground.
UPS 2 Day Air:  Shipping rate is calculated based on weight and geographic location and will ship UPS 2 Day Air.
How long does it take to process an order?
Orders will be processed within 5-7 business day out of our facility in Wauchula, FL.
How will the package be shipped?
Flat Rate will ship via USPS or UPS, or the service selected. 
If shipping to APO/FPO/DPO - select Standard Flat Rate and we will automatically ship via USPS.
Returns
Sometimes you get a bag that just doesn't quite fit your idea of what you wanted. No problem it happens! If you decided this in not the perfect bag for you, R. Riveter would love the chance to try again. Please return the bag to R. Riveter within 30 days and you will receive a full refund, minus the shipping fee. Full refunds will be given on all items as long as it was returned within 30 days. 
In order for a return or exchange to take place the item must be in good condition with tags still attached.

Submit a return request by going to our Return Portal and entering proper order information.

Exchanges
We are happy to exchange your bag for you if you are not satisfied with the style you originally ordered. You will have to send back your bag to be returned and then order the bag you would like to get instead. Because our Limited Edition Bags sell out so quickly we suggest you grab any limited edition bag as soon as you can and we will refund your money for the bag being returned as soon as we receive it in our warehouse.  
Customer is responsible for all freight charges. Shipping and handling is non-refundable.
Any return, exchange or repair will not be accepted without the return authorization form and will be returned to the customer.

*Gift Cards are Non-refundable & non-returnable
After 30 days, items may be returned for manufacturing repair.