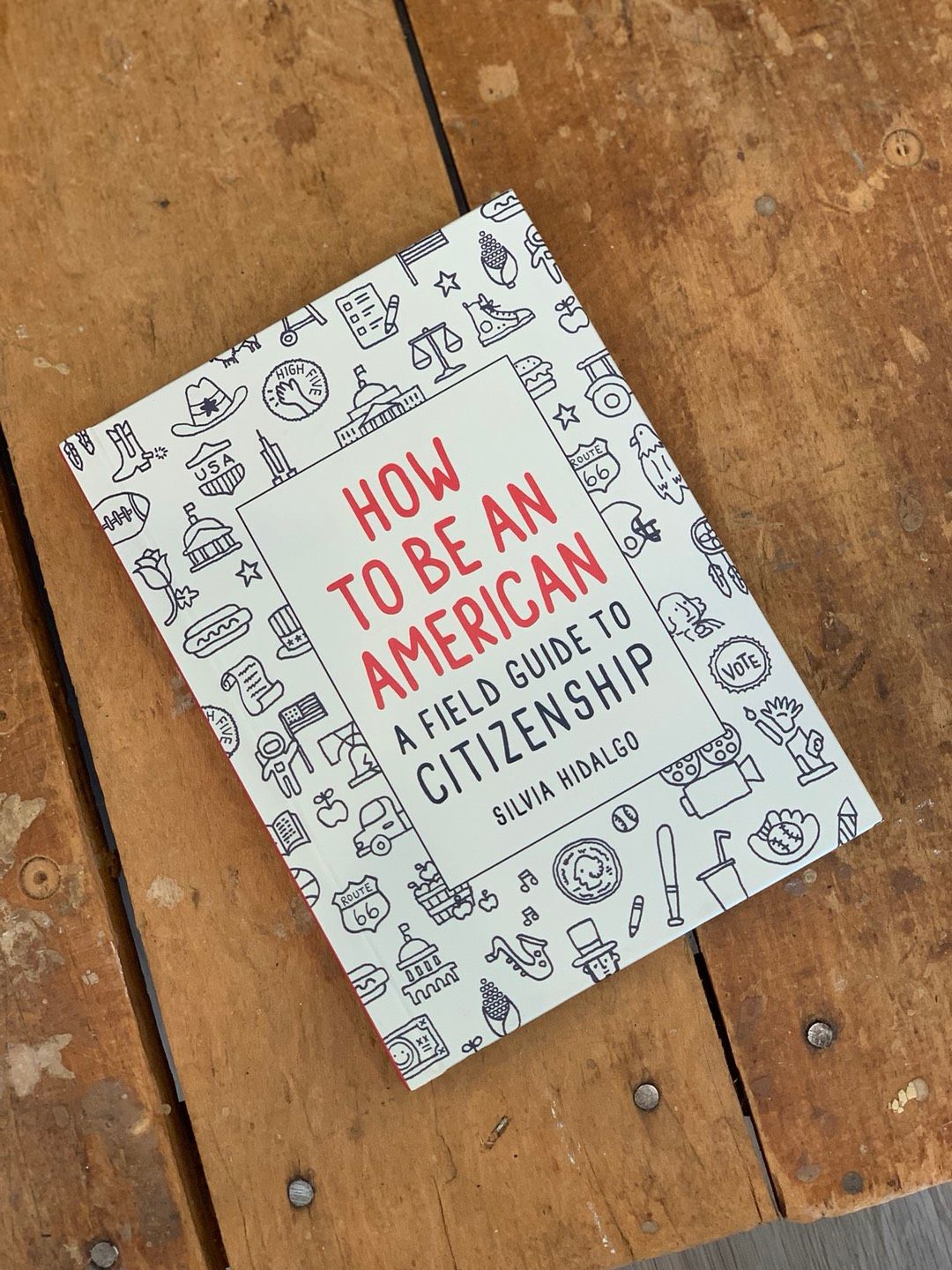 Abrams Books | How to be an American
---
The current political climate has left many of us wondering how our government actually operates. Sure, we learned about it in school, but if put to the test, how many of us can correctly explain the branches of government? The history of politics? The differences and connections between local government and federal government?
Enter How to Be an American. While author and illustrator Silvia Hidalgo was studying for her citizenship test, she quickly found that the materials provided by the government were lacking. In order to more easily absorb the information, Hidalgo started her own illustrated reference to civics facts and American history essentials. She's collected her findings in How to Be an American, a freshly designed and illustrated two-color guide to all things America.
5 x 7 in. hardcover book
128 pages
More than 100 2-color illustrations
Published 2018
About The R. Riveter Marketplace
The R.Riveter Marketplace is a curated collection of American Made and Mission-Driven makers.
Shop all Marketplace items here! 
About the Author
A FIELD GUIDE TO CITIZENSHIP By Silvia Hidalgo

Born in Costa Rica, Silvia Hidalgo moved to the United States in 1998. Currently an artist as well as a freelance graphic designer and illustrator, she has worked for corporations such as SRAM and Motorola. She lives in Chicago.
Shipping
Shipping is calculated based on weight and geographic location.
We offer FREE domestic shipping (excludes Hawaii & Alaska) on orders over $175.
What does shipping cost?
Based on the option you select at checkout:
Standard Flat rate: $8 flat rate
UPS Ground: Shipping rate is calculated based on weight and geographic location and will ship UPS Ground.
UPS 2 Day Air:  Shipping rate is calculated based on weight and geographic location and will ship UPS 2 Day Air.
How long does it take to process an order?
Orders will be processed within 5-7 business day out of our facility in Wauchula, FL.
How will the package be shipped?
Flat Rate will ship via USPS or UPS, or the service selected. 
If shipping to APO/FPO/DPO - select Standard Flat Rate and we will automatically ship via USPS.
Returns
Sometimes you get a bag that just doesn't quite fit your idea of what you wanted. No problem it happens! If you decided this in not the perfect bag for you, R. Riveter would love the chance to try again. Please return the bag to R. Riveter within 30 days and you will receive a full refund, minus the shipping fee. Full refunds will be given on all items as long as it was returned within 30 days. 
In order for a return or exchange to take place the item must be in good condition with tags still attached.

Submit a return request by going to our Return Portal and entering proper order information.

Exchanges
We are happy to exchange your bag for you if you are not satisfied with the style you originally ordered. You will have to send back your bag to be returned and then order the bag you would like to get instead. Because our Limited Edition Bags sell out so quickly we suggest you grab any limited edition bag as soon as you can and we will refund your money for the bag being returned as soon as we receive it in our warehouse.  
Customer is responsible for all freight charges. Shipping and handling is non-refundable.
Any return, exchange or repair will not be accepted without the return authorization form and will be returned to the customer.

*Gift Cards are Non-refundable & non-returnable
After 30 days, items may be returned for manufacturing repair.