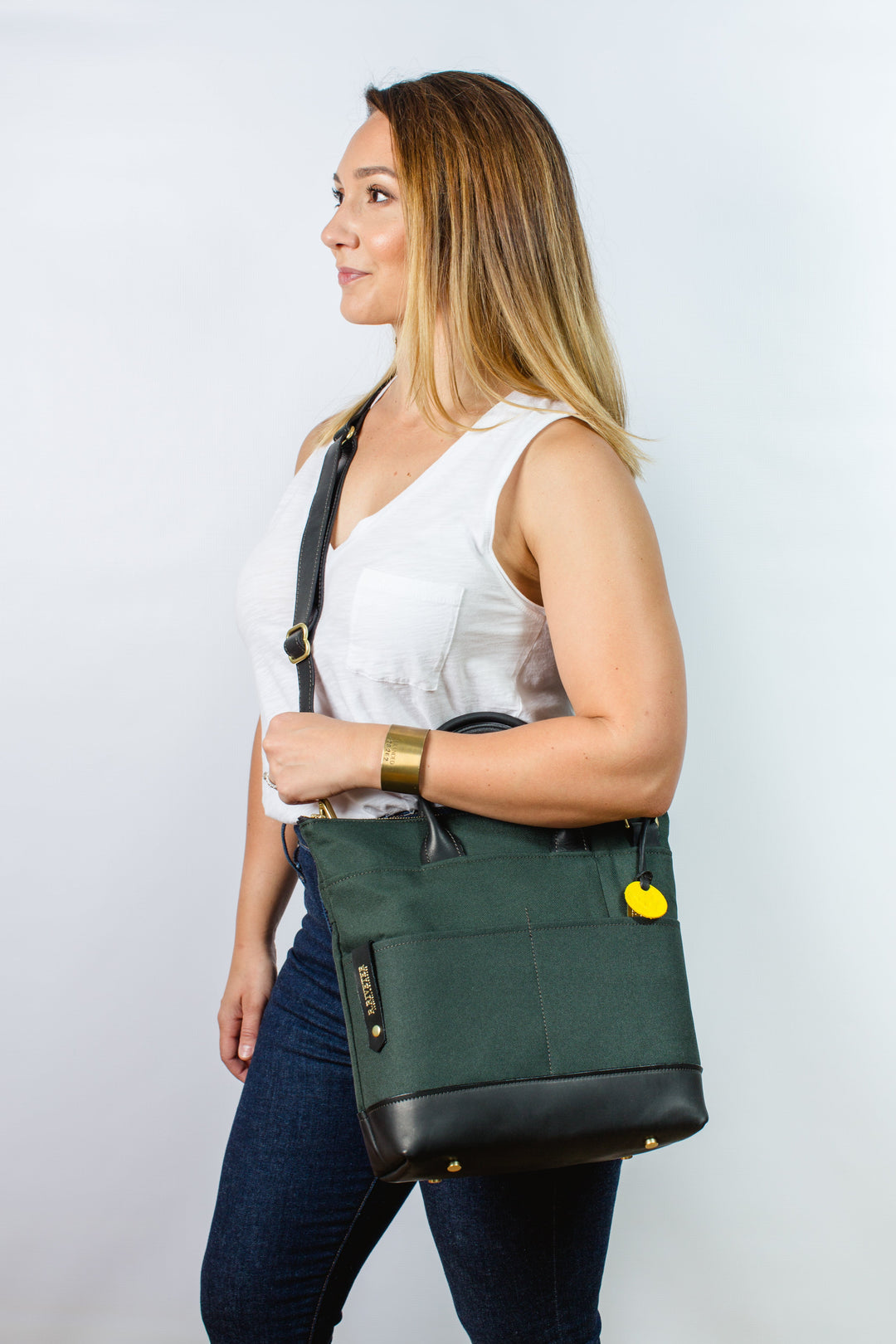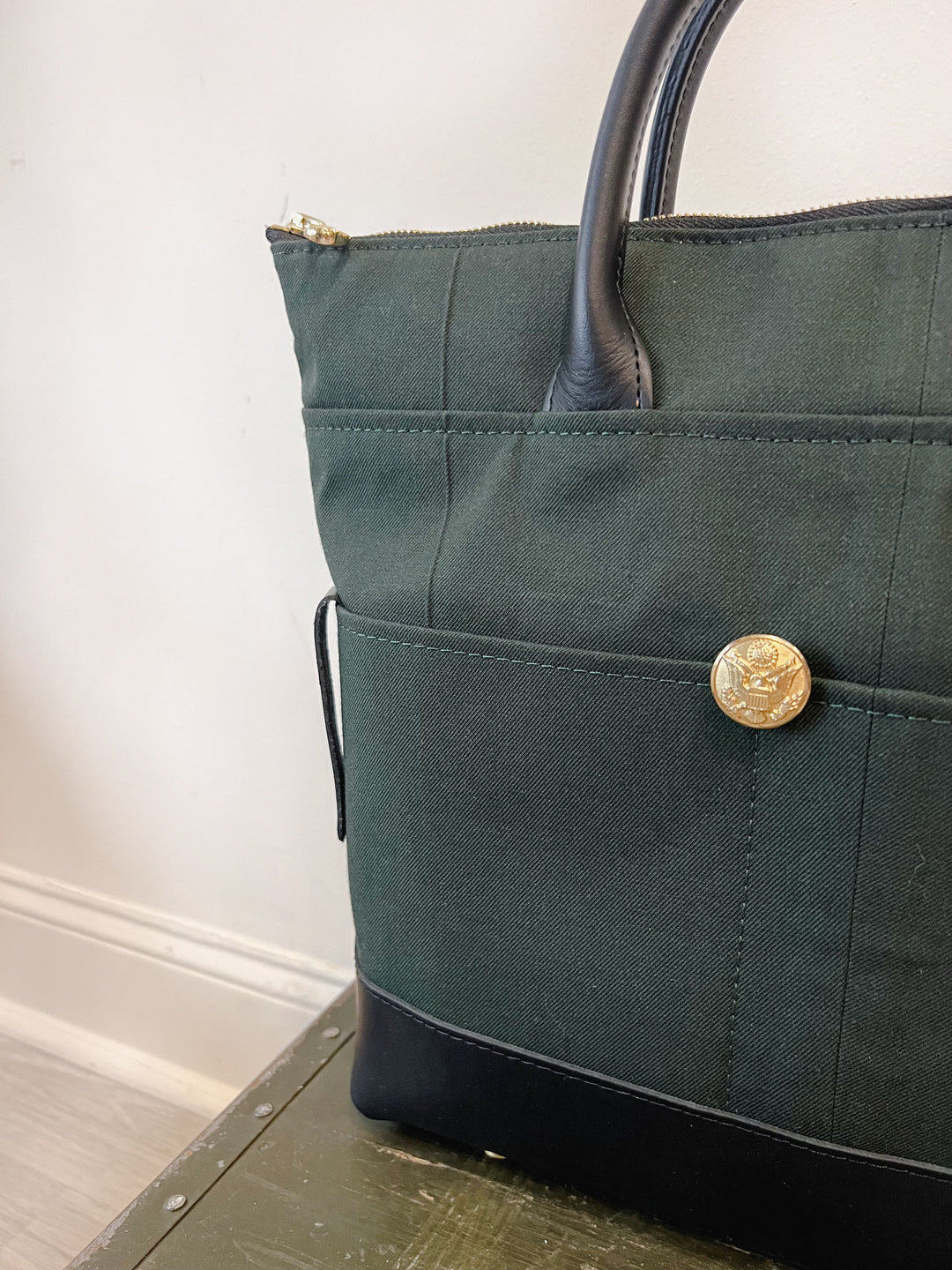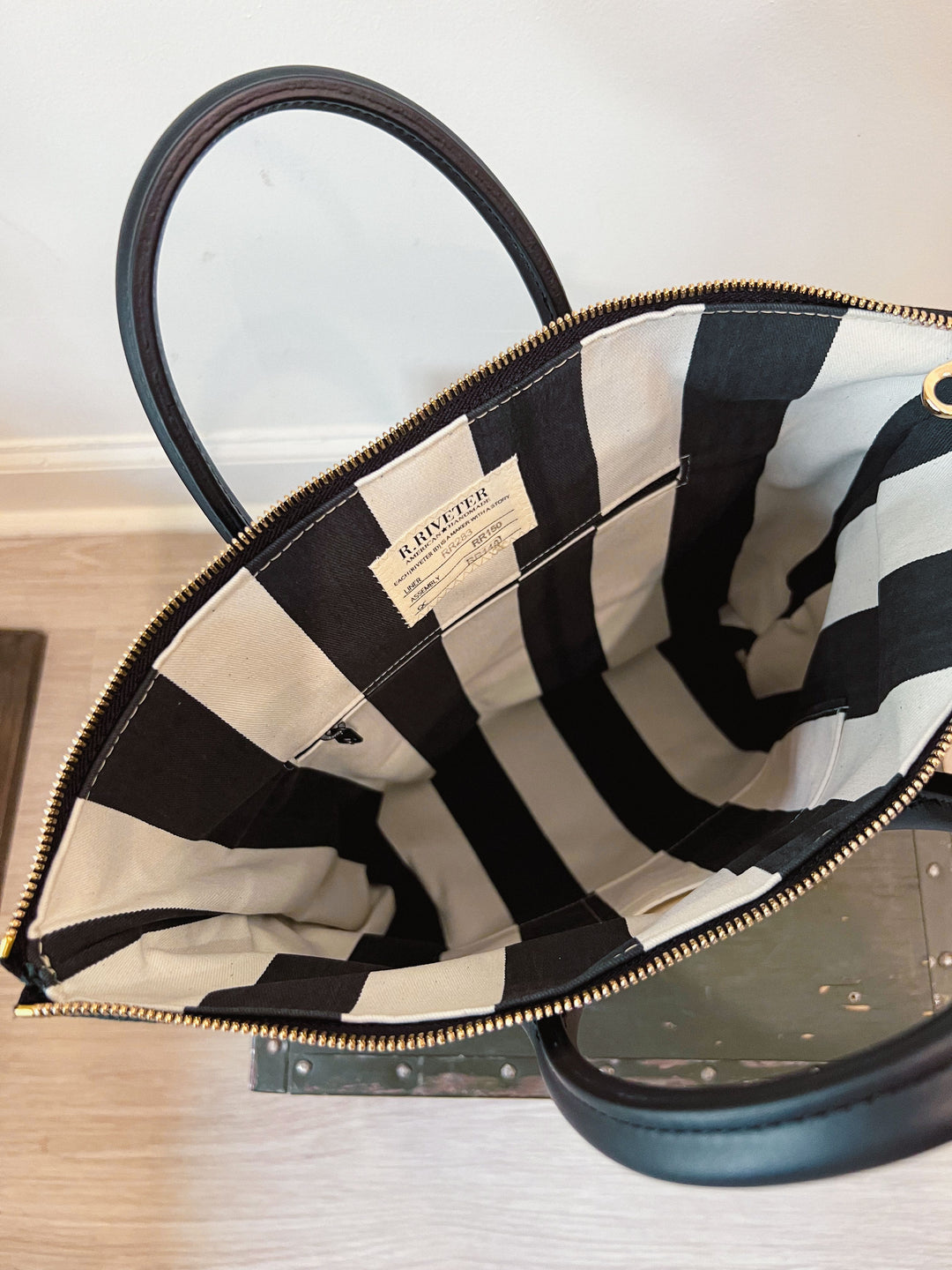 Limited Edition Otto | Class A Uniform + Black Leather
---
In honor of Armed Forces Day, we are excited to be bringing you a (very) Limited Edition Otto. Each Army Class A uniform is a carrier of memories. From military balls and celebrations to ceremonies and serious events, these uniforms represent the stories and experiences soldiers had during their time in service. Truly a handbag like no other, each Class A Otto is an incredible, unique piece!
Due to the individual nature of these bags, you can expect to find seams, creases, pockets and possibly buttons or flaps on your bag. These distinctive qualities are what make each Limited Edition handbag extraordinary and truly one of a kind!
The Otto is one of R.Riveter's most popular and versatile handbags. With an adjustable crossbody strap and functional handles, the Otto can be worn to suit any style or occasion. 
Height 12" x Width 13" at opening x Depth 3.5" 
Weight 1.48 lb

Reclaimed Army Class A uniform

Signature striped poly/cotton lining

Genuine Leather - For care instructions please visit HERE
Leather Bottom with Brass Feet
Zipper Closure
Removable 1" leather cross body strap, adjustable from 35 - 44 inches
2 Leather handles

Two exterior open pockets, Two interior open pockets, One interior zipper pocket
Inspiration Behind the Name
The Otto was named after one of the original Rosie the Riveters, Mrs. Elinor Otto. When WWII began and men were pulled away from their jobs to serve their country, Mrs. Otto was one of the nearly 6 million women who went to work to keep the country moving forward. She worked until 2014 when she retired from Boeing, where she was responsible for working on every single C-17 plane that went through the plant.
The Otto is a special handbag. Not only does it pay homage to an incredible woman who helped pave the way for 21st century working women, it also empowers military spouses today. Each part and piece of the Otto is handcrafted by military spouses across the country, allowing them to earn flexible, mobile income in a transient life with their soldier.
Product Care
Please note: Due to the nature of the Limited-Edition materials. We are unable to offer warranty repairs on the upcycled military materials portion of the handbag.
Maintenance of R. Riveter Leather: 
We love using real leather in our handbags because they just get better with age.  If you happen to get scratches or water marks, you can usually get the bag looking new again with just a little maintenance. Please click here to read about how to care for your leather. 
  
Canvas Care Suggestions: 
When spot cleaning the canvas, we suggest using a brush or sponge with water only to wipe it off soiled area. We do not recommend using anything other than water as it could discolor canvas material.  
Shipping
Shipping is calculated based on weight and geographic location.
We offer FREE domestic shipping (excludes Hawaii & Alaska) on orders over $175.
What does shipping cost?
Based on the option you select at checkout:
Standard Flat rate: $8 flat rate
UPS Ground: Shipping rate is calculated based on weight and geographic location and will ship UPS Ground.
UPS 2 Day Air:  Shipping rate is calculated based on weight and geographic location and will ship UPS 2 Day Air.
How long does it take to process an order?
Orders will be processed within 5-7 business day out of our facility in Wauchula, FL.
How will the package be shipped?
Flat Rate will ship via USPS or UPS, or the service selected. 
If shipping to APO/FPO/DPO - select Standard Flat Rate and we will automatically ship via USPS.
Returns
Sometimes you get a bag that just doesn't quite fit your idea of what you wanted. No problem it happens! If you decided this in not the perfect bag for you, R. Riveter would love the chance to try again. Please return the bag to R. Riveter within 30 days and you will receive a full refund, minus the shipping fee. Full refunds will be given on all items as long as it was returned within 30 days. 
In order for a return or exchange to take place the item must be in good condition with tags still attached.

Submit a return request by going to our Return Portal and entering proper order information.

Exchanges
We are happy to exchange your bag for you if you are not satisfied with the style you originally ordered. You will have to send back your bag to be returned and then order the bag you would like to get instead. Because our Limited Edition Bags sell out so quickly we suggest you grab any limited edition bag as soon as you can and we will refund your money for the bag being returned as soon as we receive it in our warehouse.  
Customer is responsible for all freight charges. Shipping and handling is non-refundable.
Any return, exchange or repair will not be accepted without the return authorization form and will be returned to the customer.

*Gift Cards are Non-refundable & non-returnable
After 30 days, items may be returned for manufacturing repair.